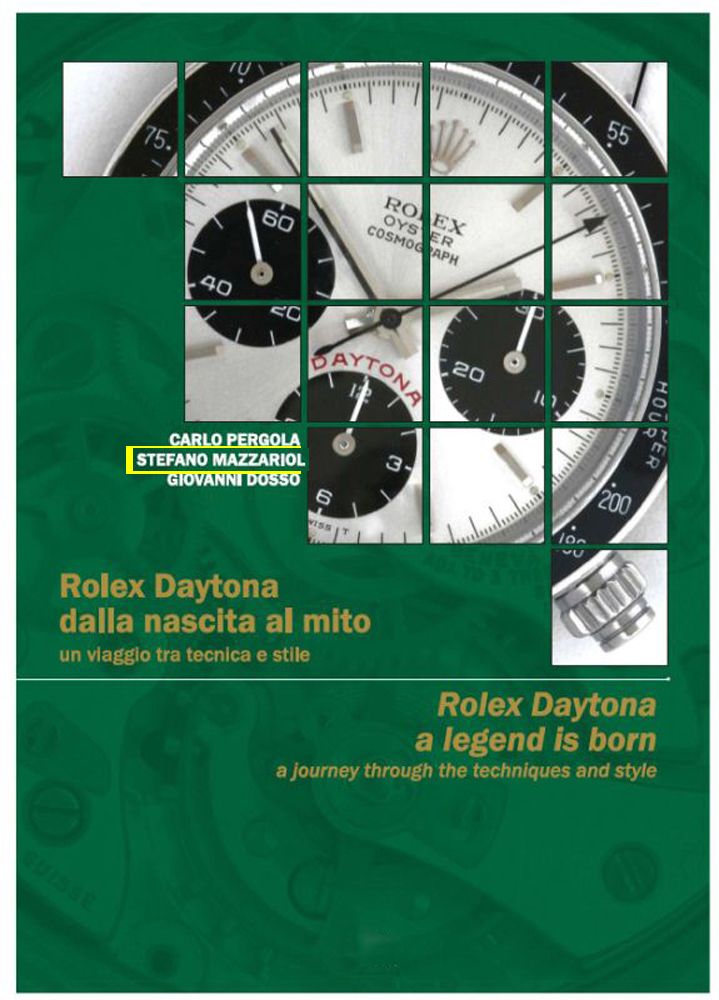 ROLEX DAYTONA DALLA NASCITA AL MITO – Un viaggio tra tecnica e stile
Edizione bilingue Italiano/Inglese.
In occasione del 50 ° anniversario della nascita del Rolex DAYTONA,
a fronte delle numerose richieste, il libro "DAYTONA dalla nascita al mito", il più venduto sull'argomento è stato ristampato in un numero limitato di copie.
Questa pubblicazione nasce con l'intento di offrire una sorta di "guida all'utente" fruibile dall'esperto collezionista al curioso neofita, secondo un percorso cronologico e di evoluzione che ha caratterizzato il Rolex Daytona.
Il libro più venduto sull'argomento
La guida più completa per scoprire il Rolex Daytona Vintage
Scritto dai più importanti esperti Rolex vintage
263 pagine, copertina rigida
ROLEX DAYTONA A LEGEND IS BORN – a journey through the tecniques and style.
Bilingual edition Italian/English.
For the 50° Jubilee of the Rolex Daytona.
Finally are available, in limited numbers, the reprints of my book.
This book was created with the intent of being a sort of users guide, usable from the expert collector to the curious neophyte, following the cronology and the evolution of Rolex Daytona.
The best selling book on the subject
The most complete guide to discover the Rolex Daytona Vintage
Written by the most important vintage Rolex experts
263 pages, Hardcover book
https://www.vintagewatches.it/wp-content/uploads/2020/02/0003.jpg
1000
719
admin
https://www.vintagewatches.it/wp-content/uploads/2017/03/vintage-watches-stefano-mazzariol-logo.png
admin
2020-02-18 12:22:57
2020-02-20 08:50:09
Rolex Daytona dalla Nascita al Mito – A legend is Born