Stefano Mazzariol – Vintage Watches Expert
Eseguo, su richiesta, perizie commerciali per stima valide per:
Polizze assicurative
Crediti bancari
Successioni
Eredità
La perizia EXPERTISE è un documento fotografico ufficiale che descrive l'orologio nelle sue parti fondamentali quali quadrante, movimento, cassa, fondello e bracciale.
La perizia valuta l'originalità, l'integrità, lo stato di conservazione e il corredo, definendone il valore secondo le attuali quotazioni del mercato nazionale ed internazionale.
La perizia viene svolta solo ed esclusivamente nella nostra sede Vintage Watches di Livorno,
dove abbiamo tutte le attrezzature necessarie per valutare il vostro orologio, alla quale alleghiamo documentazione scritta e fotografica completa.
Non eseguiamo perizie su materiale fotografico non prodotto da noi.
Il costo della perizia dipende dal valore dell'orologio e dal tipo di documento richiesto:
Per verifica verbale, senza realizzazione di fotografie e senza relazione tecnica, il costo è 100 -200 euro + iva in base al valore dell'orologio
Perizia completa (documentazione scritta + fotografica) :
Valore stimato fino a 10.000 € costo 250 € +iva
Valore stimato da 10.000 a 50.000 € costo 500 € +iva
Valore stimato da 50.000 a 100.000 € costo 1.000 € + iva
Valore stimato da 100.000 a 500.000 € costo 2.000 € + iva
Oltre 500.000 € su richiesta.
Stefano Mazzariol – Vintage Rolex expert
I execute, upon request, commercial expertise for estimate valid for:
Insurance policies
Bank credits
Successions
Heredity
The EXPERTISE is an official photographic document that describes the watch in its fundamental parts such as dial, movement, case, case back and bracelet.
The expertise evaluates the originality, integrity, state of preservation and the set, defining its value according to current prices in the national and international market.
The expertise is carried out only and exclusively in our office Vintage Watches in Livorno where we have all the necessary equipment to evaluate your watch, to which we enclose complete written and photographic documentation.
We do not perform expertise on photographic material not produced by us.
The cost of the expertise depends on the value of the watch and the type of document requested:
For oral expertise, without realization of photographs and without technical report, the cost is 100-200 € + VAT based on the value of the watch
Complete Expertise (written and photographic documentation) :
Estimated value up to 10.000 € , cost 250 € + VAT
Estimated value from 10.000 to 50.000 €, cost 500 € +VAT
Estimated value from  50.000 to 100.000 €,  cost 1.000 € +VAT
Estimated value from 100.000 to 500.000 €, cost 2.000 € +VAT
Over 500.000 € on request.
Perizia dimostrativa – Expertise example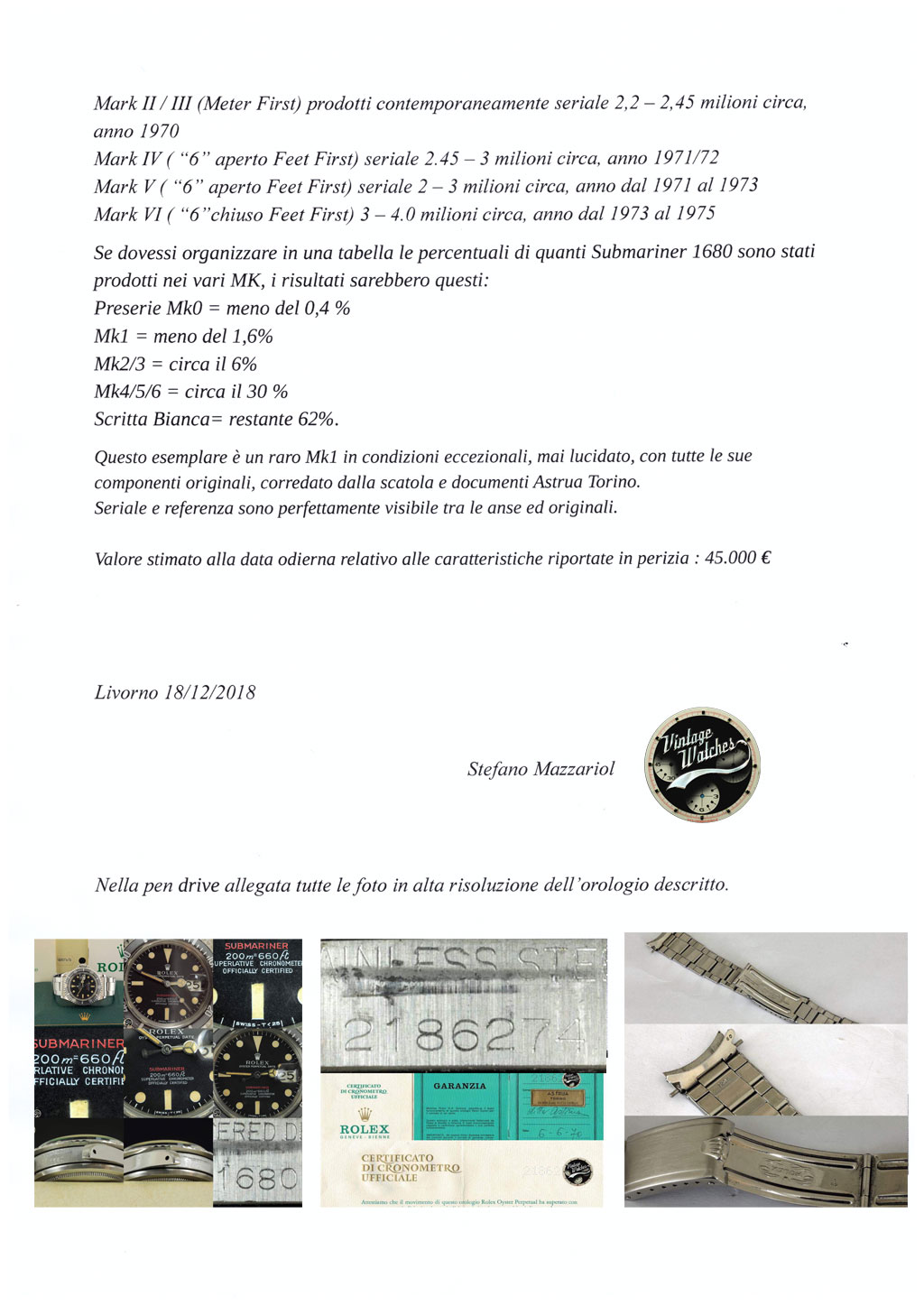 mail: info@stefanomazzariol.it
Stefano Mazzariol: +39 335 6681944
Office Mobile: +39 333 4427214
Office: +39 0586 895028