LIMITED EDITION Blancpain Fifty Fathoms Bathyscaphe For HODINKEE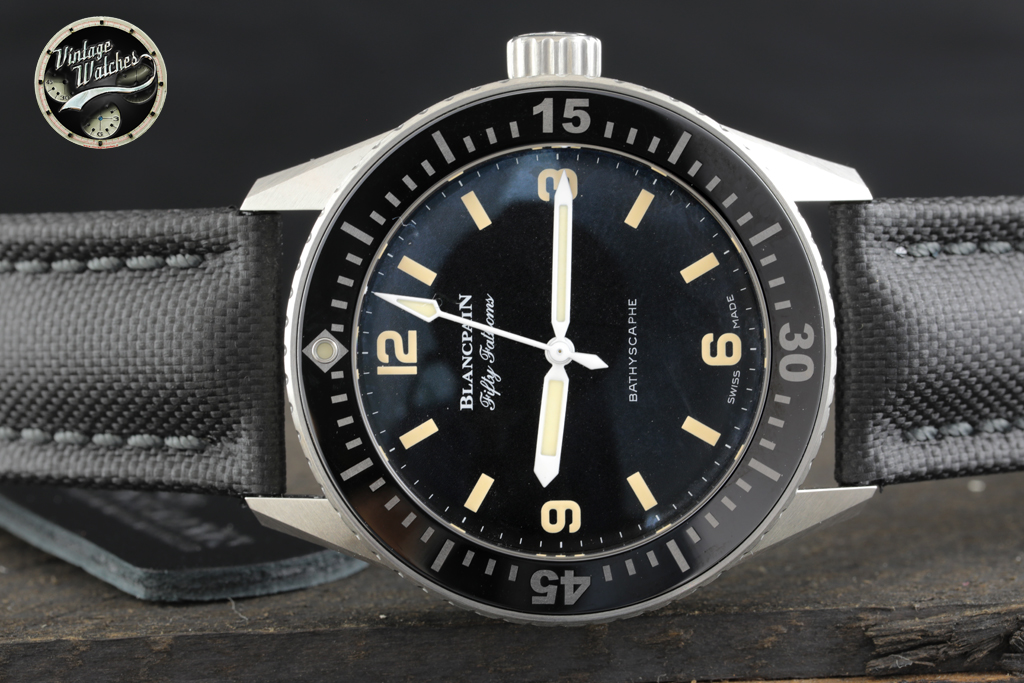 Limited Edition Blancpain Fifty Fathoms Bathyscaphe HODINKEE
Edizione limitata di soli 100 esemplari. Orologio nuovo Full Set.
Anno: 2019
Ref: 5100-1130
Materiale: acciaio inossidabile, inserto in ceramica
Dimensioni: diametro 38mm, spessore 10,77 mm
Larghezza ansa: 20 mm
Vetro:zaffiro
Fondello: retro in zaffiro con incisione "HODINKEE" sul rotore e "XXX / 100" attorno al bordo esterno
Quadrante: nero
Calibro: Blancpain Automatic Caliber 1153 con spirale in silicone
Riserva di carica: ca. 100 ore
Resistenza all'acqua: 300 metri
Cinturino: cinturino in tela vela, cinturino HODINKEE nero NATO, cinturino HODINKEE grigio NATO tutto incluso
L'edizione limitata è un tributo alla storia di questo meraviglioso orologio, oggetto chiave e protagonista di molti anni di servizio per i Sommozzatori francesi da combattimento. I primi Blancpain Fifty Fathoms vennero creati appositamente per i team delle forze speciali francesi che operano negli ambienti più estremi della Terra.
Infatti, mentre altri orologi subacquei venivano utilizzati anche da sommozzatori civili, il Blancpain Fifty Fathoms è stato progettato appositamente per i sommozzatori militari per eseguire alcune delle missioni subacquee più impegnative al mondo.
Il primo Fifty Fathoms è nato da una collaborazione tra il CEO di Blancpain Jean-Jacques Fiechter, il capitano Robert Maloubier e il tenente Claude Riffaud dei Nageurs de combat Francesi.
L'intento era quello di sviluppare un orologio subacqueo abbastanza robusto da poter essere utilizzato sia come strumento miltare che civile. Doveva essere leggibile e preciso per supportare i subacquei nelle loro missioni.
Fiechter, che era un sub appassionato e stava già lavorando al concetto di orologio subacqueo, fu avvicinato da Maloubier e Riffaud nel 1952. L'anno successivo, nel 1953, venne lanciato il il Fifty Fathoms.
I Nageurs de combat, la principale unità operativa marittima francese, conduceva una serie di missioni che andavano dalle infiltrazioni sottomarine al recupero delle mine fino all' intelligenze subacqueo.
Queste missioni avvenivano spesso in condizioni estreme e con scarsa visibilità : per questo motivo la leggibilità era una caratteristica vitale dei Fifty Fathoms.
Inoltre l'orologio era stato dotato di bussola e profondimetro, per consentire ai subacquei di programmare con precisione le missioni di immersione.
Blancpain ha continuato a creare dozzine di iterazioni dei Fifty Fathoms, e successivamente del Bathyscaphe nel 1956, cercando di perfezionare il design e rendere gli orologi ancora più funzionali sia per i militari che per i civili.
HODINKEE è un blog, un sito di e-commerce e un co-creatore di orologi.
Benjamin Clymer ha avviato il sito web di orologi HODINKEE nel 2008.
Per incuriosire gli amanti dell'orologeria ha dato alla sua attività un nome stravagante, Hodinkee appunto, che in lingua ceca significa "orologio da polso".
Nel luglio 2015 Hodinkee si fonde con la Watchville, app. di notizie sul mondo degli orologi da polso guidata da Kevin Rose, il quale diventa il nuovo amministratore delegato di Hodinkee.
Due anni dopo, nel 2017, Rose si dimette per diventare partner di una nuova società start-up, la True Ventures.
Molte importainti Maison hanno collaborato con HODINKEE.
Hermès ha stretto una partnership per creare due orologi Slim d'Hermès in edizione limitata in una speciale tonalità di "Hodinkee blue".
Todd Snyder collabora con HODINKEE per la sua collezione di orologi vintage.
Ha collaborato con Omega SA per l' edizione limitata Omega Speedmaster HODINKEE 10th Anniversary.
Con Swatch  crea il Sistem51 Blu Edition per HODINKEE, orologio automatico alimentato da Sistem51 di Swatch , il primo movimento meccanico assemblato interamente a macchina.
HODINKEE ha collaborato con TAG Heuer  per realizzare l'Autavia Caliber Heuer 02.
HODINKEE è inoltre sponsor della Horological Society di New York.
Nel 2019 HODINKEE ha stretto una partnership con IWC  per la realizzazione di due serie limitate ed una per Blancpain.
____________________________________________________
Limited Edition Blancpain Fifty Fathoms Bathyscaphe HODINKEE
Limited Edition of only 100 pieces. New watch with full set.
Year: 2019
Ref: 5100-1130
Materiial: stainless steel , ceramic insert
Size: diameter 38mm, thickness 0,77 mm
width of lug: 20 mm
Glass :sapphire
Caseback: in sapphire engraved with the word "HODINKEE" on the rotor and "XXX / 100" around the external ring
Dial: black
Calibre: Blancpain Automatic Caliber 1153 with silicone spiral
Power reserve : 100 hours
Water resistence : 300 m
Bracelets : sailing canvas strap, HODINKEE black NATO strap, HODINKEE gray NATO strap
The limited edition is a tribute to the history of this wonderful watch, a key object and protagonist of many years of service for the French combat divers.
The first Blancpain Fifty Fathoms were created specifically for French special forces teams operating in the most extreme environments on Earth.
In fact, while other diving watches were also used by civilian divers, the Blancpain Fifty Fathoms was designed specifically for military divers to perform some of the most challenging diving missions in the world.
The first Fifty Fathoms was born from a collaboration between Blancpain CEO Jean-Jacques Fiechter, captain Robert Maloubier and Lieutenant Claude Riffaud of the French Nageurs de combat.
The intent was to develop a diving watch strong enough to be used both as a military and civilian instrument. It had to be legible and precise to support divers in their missions.
Fiechter, who was a passionate sub and was already working on the concept of a diving watch, was approached by Maloubier and Riffaud in 1952. The following year, in 1953, the Fifty Fathoms was launched.
The Nageurs de combat, the main French maritime operating unit, conducted a series of missions ranging from underwater infiltration to mine recovery to underwater intelligence.
These missions often took place in extreme conditions and with poor visibility: for this reason readability was a vital feature of the Fifty Fathoms.
In addition, the watch had been equipped with a compass and depth gauge, to allow divers to program dive missions with precision.
Blancpain continued to create dozens of iterations of the Fifty Fathoms, and later the Bathyscaphe in 1956, trying to perfect the design and make the watch even more functional for both the military and civilians.
HODINKEE is a blog, an e-commerce site and a co-creator of watches.
Benjamin Clymer started the HODINKEE watch website in 2008.
To intrigue the watches enthusiasts, he gave his business an extravagant name, Hodinkee, which means "wristwatch" in the Czech language.
In July 2015 Hodinkee merges with Watchville, app. of news on the world of wristwatches led by Kevin Rose, who becomes the new CEO of Hodinkee .
Two years later, in 2017, Rose resigned to become a partner of a new start-up company, True Ventures.
Many important Maison collaborated with HODINKEE.
Hermès has partnered to create two limited edition Slim d'Hermès watches in a special "Hodinkee blue" tone.
Todd Snyder collaborates with HODINKEE for his vintage watch collection.
It collaborated with Omega SA for the limited edition Omega Speedmaster HODINKEE 10th Anniversary.
With Swatch it creates the Sistem51 Blu Edition for HODINKEE, automatic watch powered by Swatch Sistem51, the first mechanical movement assembled entirely by machine.
HODINKEE collaborated with TAG Heuer to create the Autavia Caliber Heuer 02.
HODINKEE is also a sponsor of the Horological Society of New York.
In 2019 HODINKEE formed a partnership with IWC for the realization of two limited editions and one for Blancpain.
Model: Blancpain Fifty Fathoms Bathyscaphe
Year: 2019
Ref. Number: 5100 1130
Serial Number 049
Conditions: Mint
Watch Status: Available - Disponibile
Price: Price on request
mail: info@stefanomazzariol.it
Stefano Mazzariol: +39 335 6681944
Office Mobile: +39 333 4427214
Office: +39 0586 895028