Limited Edition IWC Pilot's Watch Mark XVIII "HODINKEE"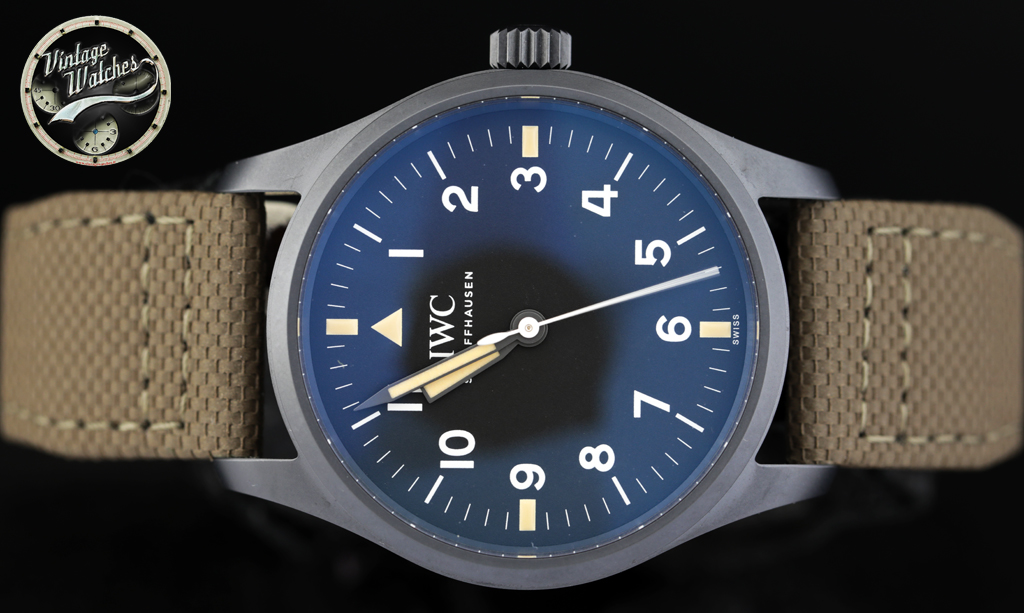 Limited Edition IWC Pilot's Watch Mark XVIII "HODINKEE"
Anno: 2019
Reference: IW324801
Serial Numbers: 6159676
N. 087 di totali 500 pz
Orologio nuovo mai indossato.
Quadrante: blu
Fondello: inciso all'esterno con la scritta HODINKEE e il numero 087
Bracciale: cinturino
Set: Full Set
Prezzo su richiesta
L'orologio IWC Pilot's Watch Mark XVIII Edizione "HODINKEE" non è solo un orologio da pilota senza data, è la moderna incarnazione del Mark 11 , con piccoli dettagli che lo rendono in vita ben al di fuori degli altri orologi da pilota di IWC Schaffhausen mostrato lo scorso mese.
IWC ha presentato molte novità quest'anno, un grande anno.   Stiamo parlando di orologi che ricordano i bei vecchi tempi del marchio: casse più piccole, design più puliti ed estremamente riconoscibili tramite il design IWC che ci ha fatto innamorare del look senza fronzoli dell'orologio da pilota.  IWC ha realizzato un orologio da pilota molto speciale che non è stato mostrato a Ginevra, ma è disponibile fin da ora qui nel negozio HODINKEE: l'IWC Pilot's Watch Mark XVIII Edizione "HODINKEE".
Ha una cassa da 39 mm che monta un calibro a carica automatica protetto da una gabbia antimagnetica e un quadrante di una semplicità affascinante. Un orologio da pilota da 39 mm senza data (al contrario del modello di normale produzione). Inoltre la cassa è realizzata in una lega chiamata Ceratanium®, un ibrido leggero come il titanio e resistente ai graffi come la ceramica. Questo orologio da pilota è realizzato in una produzione limitata di 500 pezzi numerati.
HODINKEE è un blog, un sito di e-commerce e un co-creatore di orologi.
Benjamin Clymer ha avviato il sito web di orologi HODINKEE nel 2008.
Per incuriosire gli amanti dell'orologeria ha dato alla sua attività un nome stravagante, Hodinkee appunto, che in lingua ceca significa "orologio da polso".
Nel luglio 2015 Hodinkee si fonde con la Watchville, app. di notizie sul mondo degli orologi da polso guidata da Kevin Rose, il quale diventa il nuovo amministratore delegato di Hodinkee.
Due anni dopo, nel 2017, Rose si dimette per diventare partner di una nuova società start-up, la True Ventures.
Molte importainti Maison hanno collaborato con HODINKEE.
Hermès ha stretto una partnership per creare due orologi Slim d'Hermès in edizione limitata in una speciale tonalità di "Hodinkee blue".
Todd Snyder collabora con HODINKEE per la sua collezione di orologi vintage.
Ha collaborato con Omega SA per l' edizione limitata Omega Speedmaster HODINKEE 10th Anniversary.
Con Swatch crea il Sistem51 Blu Edition per HODINKEE, orologio automatico alimentato da Sistem51 di Swatch , il primo movimento meccanico assemblato interamente a macchina.
HODINKEE ha collaborato con TAG Heuer per realizzare l'Autavia Caliber Heuer 02.
HODINKEE è inoltre sponsor della Horological Society di New York.
Nel 2019 HODINKEE ha stretto una partnership con IWC per la realizzazione di due serie limitate ed una per Blancpain.
____________________________________________________
Limited Edition IWC Pilot's Watch Mark XVIII "HODINKEE"
Year: 2019
Reference: IW324801
Serial Numbers: 6159676
N. 087 of 500 total pieces produced
New watch, never worn.
Dial: blue
Caseback: engraved outside with the word HODINKEE and the number 087
Bracelet: watchstrap
Set: Full Set
Price on request
The IWC Pilot's Watch Mark XVIII Edition "HODINKEE" is not just a no data pilot's watch, it is the modern incarnation of the Mark 11, with small details that make it live well beyond the other IWC Schaffhausen pilot watches shown last month.
IWC presented many new features this year, a great year. We are talking about watches that recall the good old days of the brand: smaller cases, cleaner designs and extremely recognizable through the IWC design that made us fall in love with the no-frills look of the pilot's watch. IWC has made a very special pilot watch that was not shown in Geneva, but is available now here in the HODINKEE store: the IWC Pilot's Watch Mark XVIII Edition "HODINKEE".
It has a 39 mm case that mounts a self-winding caliber protected by an anti-magnetic cage and a fascinating simplicity dial. A 39 mm pilot watch without date (as opposed to the normal production model). In addition, the case is made of an alloy called Ceratanium®, a light hybrid like titanium and resistant to scratches like ceramics. This pilot watch is made in a limited production of 500 numbered pieces.
Benjamin Clymer started the HODINKEE watch website in 2008.
To intrigue the watches enthusiasts, he gave his business an extravagant name, Hodinkee, which means "wristwatch" in the Czech language.
In July 2015 Hodinkee merges with Watchville, app. of news on the world of wristwatches led by Kevin Rose, who becomes the new CEO of Hodinkee .
Two years later, in 2017, Rose resigned to become a partner of a new start-up company, True Ventures.
Many important Maison collaborated with HODINKEE.
Hermès has partnered to create two limited edition Slim d'Hermès watches in a special "Hodinkee blue" tone.
Todd Snyder collaborates with HODINKEE for his vintage watch collection.
It collaborated with Omega SA for the limited edition Omega Speedmaster HODINKEE 10th Anniversary.
With Swatch it creates the Sistem51 Blu Edition for HODINKEE, automatic watch powered by Swatch Sistem51, the first mechanical movement assembled entirely by machine.
HODINKEE collaborated with TAG Heuer to create the Autavia Caliber Heuer 02.
HODINKEE is also a sponsor of the Horological Society of New York.
In 2019 HODINKEE formed a partnership with IWC for the realization of two limited editions and one for Blancpain.
Model: Limited Edition IWC Pilot's Watch Mark XVIII "HODINKEE"
Year: 2019
Ref. Number: IW324801
Serial Number 6159676
Conditions: Mint
Watch Status: Available - Disponibile
Price: Price on request
mail: info@stefanomazzariol.it
Stefano Mazzariol: +39 335 6681944
Office Mobile: +39 333 4427214
Office: +39 0586 895028