Patek Philippe ref. 5070G 001 Like new Full Set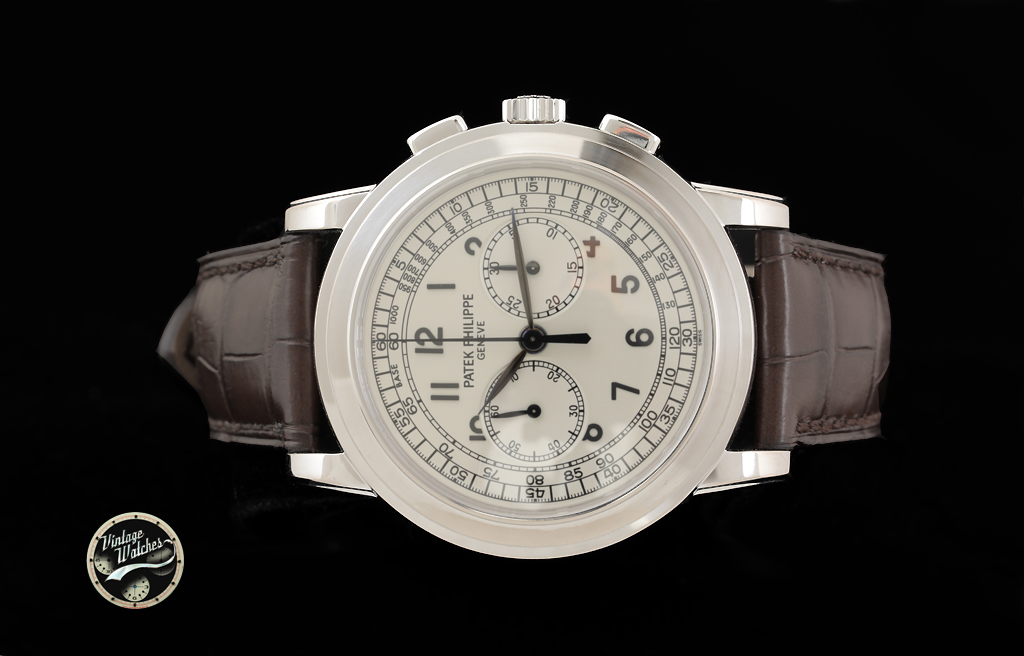 Patek Philippe ref. 5070G 001 Like new
It sold in Geneva in 2004 by Salons Patek Philippe Genève
Mouvement : 3147838/4254115
Calibre : 27-70 CHR
Case: In white gold, perfect condition, like new
Bracelet:
double leather strap with original buckle and deployante
Accessories: Full set
Price :
70.000€
The ref. 5070 was produced from 1998 to 2008 – 2009. Initially it came out in yellow gold with black dial (5070J). This watch was made between 1998 and 2002. Patek has made about 250 pieces / year approximately.
After the 5070J, Patek made the same watch but in white gold with a white silver dial. This reference (5070G) was made between 2002 and 2006, thus still 4 years of production, which means that about 1000 pieces have been made in total (250/years). This is a large watch with a secure collecting future, a authentic must of watchmaking.
————————————————————
Patek Philippe ref. 5070G 001 Come nuovo
Venduto nel 2004 presso il salone Patek Philippe di Ginevra
Movimento : 3147838/4254115
Calibro : 27-70 CHR
Cassa: in oro bianco, perfette condizioni, come nuova
Bracciale :
doppio Bracciale originale in pelle con fibbia originale deployante
Accessori: Full set
Prezzo :
70.000€
La ref. 5070 è stata prodotta dal 1998 al 2008 – 2009. Inizialmente è uscita in oro giallo con quadrante nero (5070J). Questo orologio è stato realizzato tra il 1998 e il 2002. Patek ha realizzato circa 250 pezzi / anno circa.
Dopo il 5070J, Patek ha fatto lo stesso orologio ma in oro bianco con un quadrante argentato bianco. Questa referenza (5070G) è stata realizzata tra il 2002 e il 2006, quindi ancora 4 anni di produzione, il che significa che circa 1000 pezzi sono stati fatti in totale (250 all'anno).Orologio di grandi dimensioni con un sicuro futuro collezionistico, un autentico must dell'orologeria.
Model: Patek Philippe
Year: 2004
Ref. Number: 5070G 001
Serial Number 31474838/ 4254115
Conditions: Mint
Watch Status: Available - Disponibile
Price: 70.000 €
mail: info@stefanomazzariol.it
Stefano Mazzariol: +39 335 6681944
Office Mobile: +39 333 4427214
Office: +39 0586 895028