Rolex Daytona ref. 16520 ser. P Full Set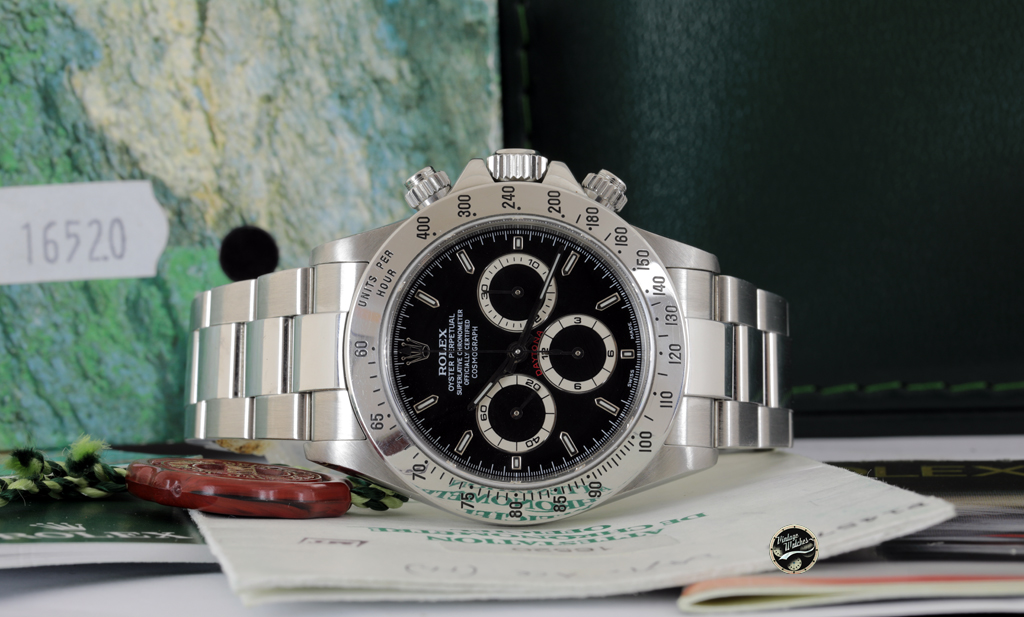 Rolex Daytona ref. 16520 ser. P Full Set
Serial numbers P1457** , 2001
Case:
in perfect condition
Serial and ref. numbers are perfect between the lugs
Dial:
Original Rolex Black Dial
Perfect condition
Bracelet:
original Rolex Oyster ref. 78390A/803B
Clasp AB4
perfect condition
Accessories:
Full Set : box, Rolex punched papers, booklets, tag, Rolex wallet
Price on request
The story begins in Baselworld in 1988 when Rolex presents the most important and significant redesign of their flagship sports watch, the automatic Daytona.
The Daytona is always the most exciting, most coveted and most commercial Rolex model required on the market.
It was the first watch with waiting lists that could reach even 5 years.
There are Rolex collectors and then there are Daytona collectors. Almost like a brand inside the brand.
The 16520 is the forefather of the Daytona self-winding and despite the release of new models from the Mason Rolex, the previous versions continue to be a star on the crest of the wave.
The 16520 series watches have almost doubled their value in the last two or three years.
In 2001 the last models of the 16520 series were marketed to then give space to the new model 116520.
For this reason the Daytona 16520 with the serial number that starts with the P, are rare and sought after.
Discovery all you want to know about Daytona ref. 16520 on www.mazzariolstefanolibrary.com
https://www.mazzariolstefanolibrary.com/it/search-3/?q=16520&postTypes=post
________________________________
Rolex Daytona ref. 16520 ser. P Full Set
Seriale numero P1457** , 2001
Cassa:
in perfette condizioni
Seriale e referenza sono perfettamente visibili tra le anse
Quadrante:
quadrante nero originale Rolex
In perfette condizioni
Bracciale:
bracciale originale Rolex Oyster ref. 78390A/803B
Clasp AB4
In perfette condizioni
Accessori:
Full set: scatola, garanzia Rolex traforata, libretti, tag, portadocuenti Rolex.
Prezzo su richiesta
La storia inizia nel 1988 a Baselworld quando Rolex presenta la più importante e significativa riprogettazione del loro orologio sportivo di punta, il Daytona automatico.
Il Daytona è da sempre il modello Rolex più appassionante, più ambito e il più commercialmente richiesto sul mercato.
E' stato il primo orologio con liste di attesa che potevano arrivare anche a 5 anni.
Ci sono i collezionisti di Rolex e poi ci sono i collezionisti di Daytona. Quasi come un marchio dentro il marchio.
Il 16520 è il capostipite dei Daytona a carica automatica e nonostante vengono rilasciati nuovi modelli dalla Mason Rolex, le versioni precedenti continuano a rimanere sulla cresta dell'onda.
Gli orologi della serie 16520 hanno quasi raddoppiato il loro valore negli ultimi due o tre anni.
Nel 2001 furono commercializzati gli ultimissimi esemplari della serie 16520 per poi dare spazio al nuovo modello 116520.
Per questo motivo i Daytona 16520 con il numero seriale che inizia con la P, sono rari, ambiti e ricercati.
Scopri tutto quello che vuoi sapere sul Daytona ref. 16520 su www.mazzariolstefanolibrary.com
https://www.mazzariolstefanolibrary.com/it/search-3/?q=16520&postTypes=post
Model: Rolex Daytona
Year: 2001
Ref. Number: 16520
Serial Number P1457**
Conditions: Hardly Worn
Watch Status: Available - Disponibile
Price: Price on request
mail: info@stefanomazzariol.it
Stefano Mazzariol: +39 335 6681944
Office Mobile: +39 333 4427214
Office: +39 0586 895028