Rolex Daytona ref. 16520 ser. W Beyer Compax Brown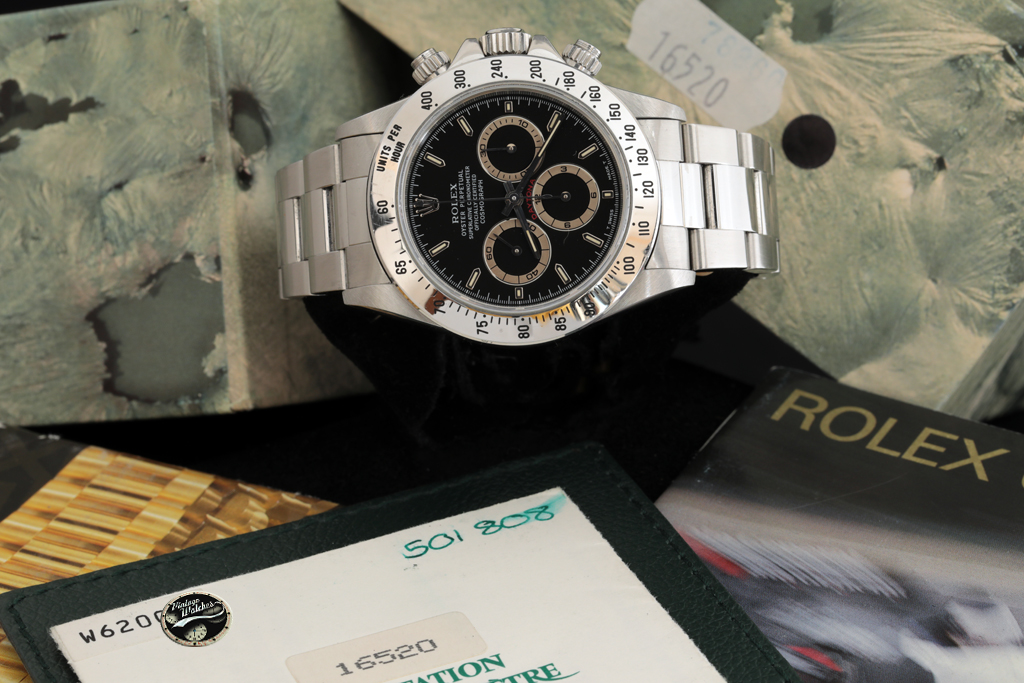 Rolex Daytona ref. 16520 ser. W Beyer Compax Brown
Serial numbers W6200** , 1996
Case:
in very good condition
Serial and ref. numbers are perfect between the lugs
Engraved with the Beyer serial numbers on a lug.
Dial:
Original Rolex Dial Compax Brown
Perfect condition
Bracelet:
original Rolex Oyster ref. 78390/503B
in very good condition
Accessories:
Full Set (Box & Rolex Punched Papers released from Beyer, Daytona booklets, tag, Rolex wallet)
Price €48000
The characteristic of the Serial Daytona 16520 S, W, T was that they could turn to brown right away, "defect" due to a lot of quadrants produced by Singer that tended to oxidize.
The color change is due to the fact that Rolex has always used for the dials of organic paints. When the dials were not sufficiently protected by a clear varnish called "zappon", the silver that made up these varnishes oxidized with the sulfur contained in the air and coated itself.
Patrizzi was the first to detect this anomaly in a watch by Guido Mondani, who despite having always been in the safe had counters markedly turned to brown.
Finding it and announcing it first in an auction catalog description meant that collectors started calling it "Patrizzi Dial".
This "technical error" in the protection of the silvering of the counters gives the dial a unique and fascinating look.
This watch was sold by Dealer Beyer, one of the first dealers to sell the Rolex brand.
Beyer used to put an identification number on the top right of the warranty, always written with a green pen, and engraved the aforementioned number behind a loop inside the casing.
Until about 1993, some models also had a custom dial with the Beyer signature.
_______________________________________________
Rolex Daytona ref. 16520 ser. W Beyer Contatori Marroni
Seriale numero W6200** , 1996
Cassa:
in ottime condizioni
Seriale e referenza sono perfettamente visibili tra le anse
Incisa da Beyer con l'identificativo numero seriale sull'ansa.
Quadrante:
quadrante originale Rolex con contatori marroni
In perfette condizioni
Bracciale:
bracciale originale Rolex Oyster ref. 78390 / 503B
Ottime condizioni
Accessori:
Full Set (Scatola e garanzia traforata Rolex rilasciata da Beyer, libretti, tag, portadocumenti Rolex)
Prezzo€48000
La caratteristica dei Daytona 16520 seriali S,W,T era che potevano virare al marrone fin da subito, "difetto" dovuto ad una partita di quadranti prodotti da Singer che tendevano ad ossidarsi .
Il viraggio di colore è dovuto al fatto che Rolex ha sempre utilizzato per i quadranti delle vernici organiche. Quando i quadranti non erano sufficientemente protetti da una vernice trasparente chiamata "zappon", l'argento che componeva queste vernici si ossidava con lo zolfo contenuto nell'aria e si patinava.
È stato proprio Patrizzi a rilevare per primo questa anomalia in un orologio di Guido Mondani, che nonostante fosse sempre stato in cassaforte aveva i contatori spiccatamente virati al marrone.
L'averlo riscontrato e annunciato per primo in una descrizione di catalogo di vendita all'asta, ha fatto sì che i collezionisti abbiano iniziato a chiamarlo "Patrizzi Dial".
Questo "errore tecnico" nella protezione dell'argentatura dei contatori dà al quadrante un look unico ed affascinante.
Questo orologio è stato venduto dal Concessionario Beyer, uno dei primi concessionari a vendere il marchio Rolex.
Beyer usava mettere un numero identificativo in alto a dx della garanzia, scritto sempre con una penna verde, e incideva il suddetto numero dietro un'ansa interna della cassa.
Fino al 1993 circa, alcuni modelli , avevano anche il quadrante personalizzato con la firma Beyer.
Model: Rolex Daytona
Year: 1996
Ref. Number: 16520
Serial Number W6200**
Conditions: Hardly Worn
Watch Status: Available - Disponibile
Price: €48000
mail: info@stefanomazzariol.it
Stefano Mazzariol: +39 335 6681944
Office Mobile: +39 333 4427214
Office: +39 0586 895028