Rolex Daytona ref. 6263/8 in Gold Box & Paper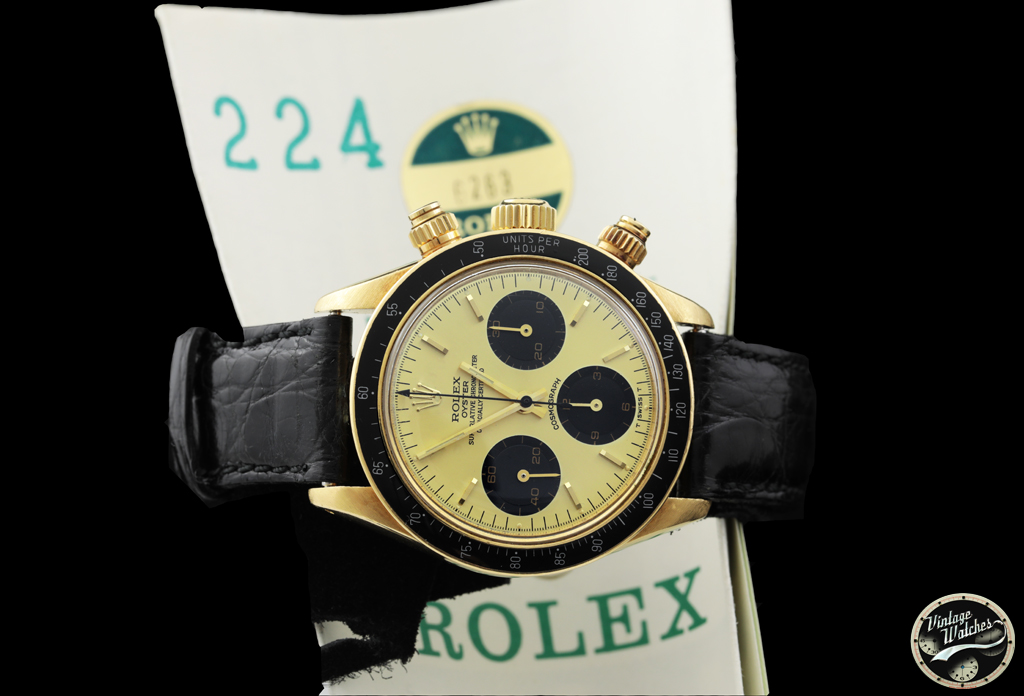 Rolex Daytona ref. 6263/8 in Gold Box & Paper
Serial numbers 883175xx.1985
Case:
in very good condition
Serial and ref. numbers are perfect between the lugs
Dial:
Original Rolex Dial
in Perfect condition
bracelet in leather strap with original bucklet in yellow gold
Accessories:
Box & paper
Price on request
The Rolex Cosmograph Daytona ref. 6263 was produced from 1970 to around 1987 in just over 300 specimens in 18kt gold and just under 300 specimens in 14 kt gold, on average 35 watches a year.
Compared to the steel model, on the dial appears the words Superlative Chronometer Officially Certified which highlights the official chronometer certification for cal. 727 for gold models.
Since the Daytona collecting has exploded it has always been the most requested and desired model.
This watch, in excellent condition, has been sold by an Italian dealer and is complete with an original Rolex punched paper.
—————————————————————————————
Rolex Daytona ref. 6263/8 in oro Scatola e garanzia
Seriale numero 88317xx, 1985
Cassa:
in ottime condizioni
Seriale e referenza sono perfettamente visibili tra le anse
Quadrante:
quadrante originale Rolex champagne
In perfette condizioni
Bracciale in pelle con fibbia originale in oro
Accessori:
Scatola e garanzia
Prezzo su richiesta
Il Rolex Cosmograph Daytona ref. 6263 è stato prodotto dal 1970 a tutto il 1987 in poco più di 300 esemplari in
oro 18kt e poco meno di 300 esemplari in oro 14 kt, mediamente 35 orologi l'anno.
Rispetto al modello in acciaio, sul quadrante appare la dicitura Superlative Chronometer Officially Certified che evidenzia la certificazione ufficiale di cronometro per il cal. 727 destinato ai modelli in oro.
Da quando è esploso il collezionismo Daytona è sempre stato il modello più richiesto e desiderato.
Questo orologio, in ottime condizioni è stato venduto da concessionario Italiano ed è completo di garanzia originale traforata Rolex.
Model: Rolex Daytona
Year: 1985
Ref. Number: 6263/8
Serial Number 88317xx
Conditions: Hardly Worn
Watch Status: Available - Disponibile
Price: On request
mail: info@stefanomazzariol.it
Stefano Mazzariol: +39 335 6681944
Office Mobile: +39 333 4427214
Office: +39 0586 895028