Rolex Explorer II ref. 16550 Rail Cream Dial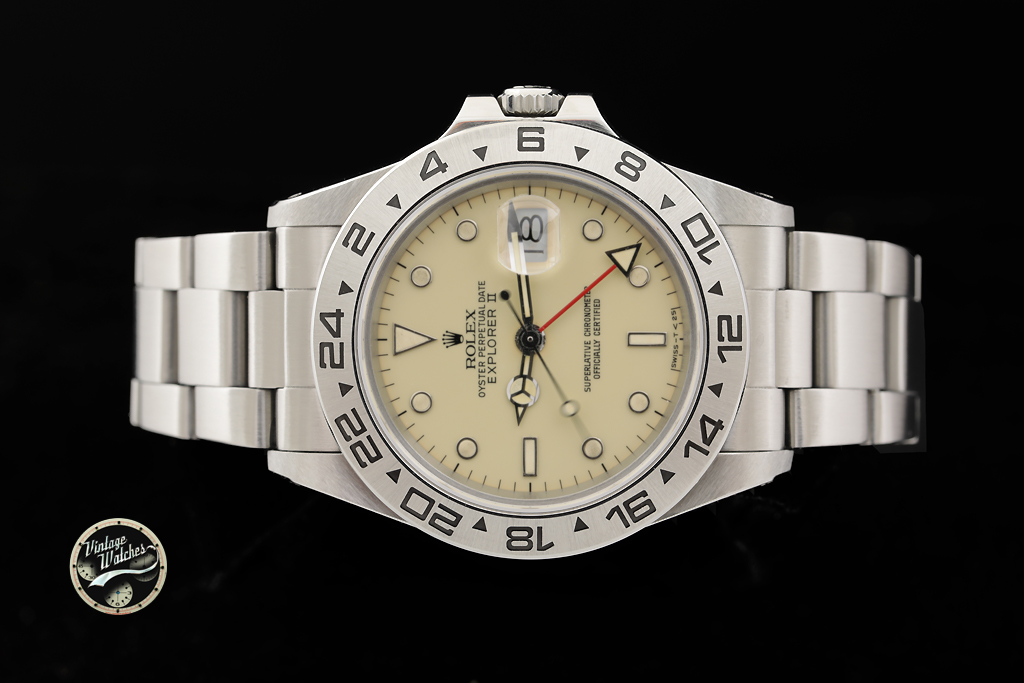 Rolex Explorer II ref. 16550 Rail Cream Dial
Serial numbers 93235** , 1986
Case:
in perfect condition
Serial and ref. numbers are perfect between the lugs
Dial:
Original Rolex Rail Cream Dial
Perfect condition
Bracelet:
original Rolex Oyster ref. 78360/501
Clasp K3
Perfect condition
Accessories:
none
€ 15.600
The Rolex 16550 was presented in 1985 as a more modern conception of its predecessor ref. 1655 and benefits from numerous changes.
As the Explorer II 1655 was only available in steel but the dial was offered in two colors, black and white.
The indexes are surrounded by a white gold profile and in the same material the Mercedes hands were created, identical to those used in the GMT-Master model and totally different from its predecessor ref.1655
It has got the same movement caliber 3085 as the GMT Master ref. 16760, but with an independent hour hand to trace a second time zone.
The Explorer II 16550 boasts a record: it was the first sapphire sport Rolex to mount a white dial with magnifying lens Cyclope (code 25-295-C1).
Because it is a transitional model, Rolex produced it for about four years, from 1985 to 1989, making it a rather rare model among explorers.
The 16550 has several important details that greatly influence its current market value.
The graphics of the writing Superlative Chronometer Officially Certified has the text defined Rail, that is split in two by an imaginary line that starts at 6 o'clock and divides the writing in two.
Things get even more interesting because these white dials – due to some sort of paint defect – have turned into a nice cream or ivory color.
Even the bezel has a special graphic. In fact, it presents a renewed graphic font, with squared-off numbers much fatter than its successor ref. 16570 and alternating with small triangular indexes.
The 16550 remains in the list until about 1988, when it is replaced by the new Rolex Explorer II ref. 16570 equipped with movement cal. 3185.
The watch that we offer for sale was produced in 1986 and has all the typical characteristics of this reference with a uniform and beautiful color change of the dial.
_____________________________________________________
Rolex Explorer II ref. 16550 Quadrante Rail Panna
Seriale numero 93235** , 1986
Cassa:
in perfette condizioni
Seriale e referenza sono perfettamente visibili tra le anse
Quadrante:
quadrante originale Rolex Rail panna
In perfette condizioni
Bracciale:
bracciale originale Rolex Oyster ref. 78360/501
Clasp K3
In perfette condizioni
Accessori:
nessuno
€ 15.600
Il Rolex 16550 è stato presentato nel 1985 come concezione più moderna del suo predecessore ref. 1655 e beneficia di numerosi cambiamenti.
Come l'Explorer II 1655 è disponibile unicamente in acciaio ma il quadrante veniva offerto in due varianti cromatiche, bianco e nero.
Gli indici sono contornati da un profilo in oro bianco e nel medesimo materiale vengono realizzate le sfere Mercedes, identiche a quelle utilizzate nel modello GMT-Master e totalmente diverse dal suo predecessore ref.1655.
Utilizza lo stesso movimento calibro 3085 del GMT Master ref. 16760, ma con una lancetta delle ore indipendente per tracciare un secondo fuso orario.
L'Explorer II 16550 vanta un primato: è stato il primo Rolex sportivo zaffiro a montare un quadrante bianco con lente magnificatrice Cyclope (cod. 25-295-C1).
Poiché è un modello di transizione, Rolex lo ha prodotto per circa quattro anni, dal 1985 al 1989, rendendolo un modello piuttosto raro tra gli Explorer.
Il 16550 ha diversi dettagli importanti, che influenzano enormemente l'attuale valore di mercato.
La grafica della scritta Superlative Chronometer Officially Certified ha il
testo definito Rail , cioe' spaccato in due da una linea immaginaria che parte da ore 6 e che divide in due la scritta.
Le cose si fanno ancor più interessanti perché questi quadranti bianchi – a causa di una sorta di difetto di vernice – si sono trasformati in un bel color crema o avorio.
Anche la lunetta ha una grafica particolare. Presenta infatti un font grafico rinnovato, con numeri dal profilo squadrato molto piu' grassi rispetto al suo successore 16570 e alternati a piccoli indici triangolari .
Il 16550 rimane in listino fino al 1988 circa, quando viene sostituito dal nuovo Rolex Explorer II 16570 dotato di movimento cal. 3185.
Questo esemplare che proponiamo in vendita è stato prodotto nel 1986 ed ha tutte le caratteristiche tipiche di questa referenza con un viraggio uniforme e bellissimo del quadrante.
Model: Rolex Explorer II
Year: 1986
Ref. Number: 16550
Serial Number 93235**
Conditions: Hardly Worn
Watch Status: Available - Disponibile
Price: 15.600 €
mail: info@stefanomazzariol.it
Stefano Mazzariol: +39 335 6681944
Office Mobile: +39 333 4427214
Office: +39 0586 895028