Rolex Explorer ref. 1016 ser. R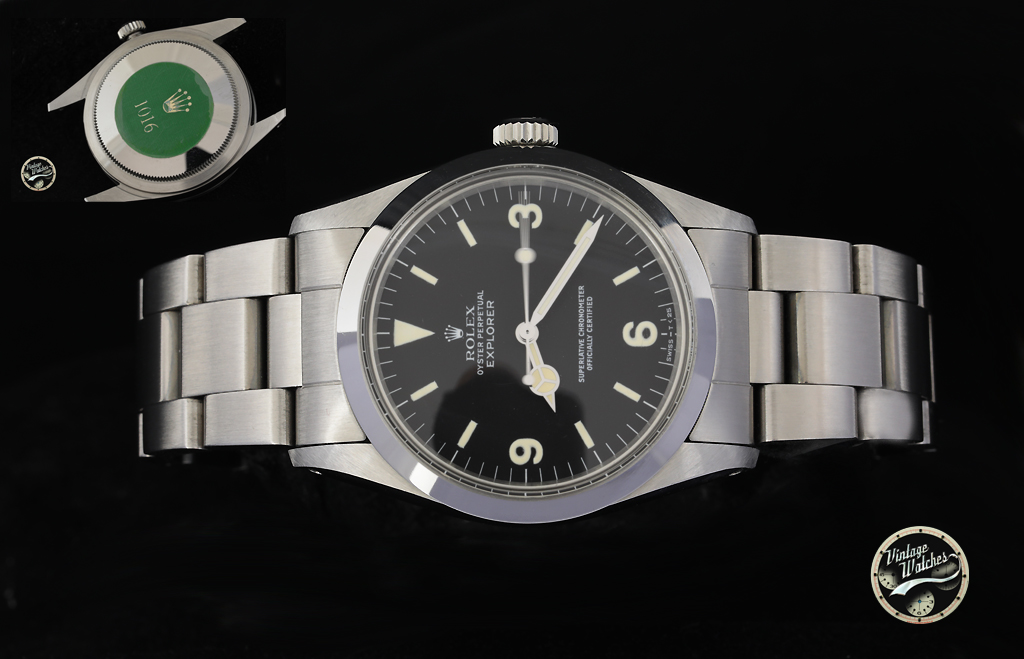 Rolex Explorer ref. 1016 ser. R
Serial numbers R4108** , 1987
Case:
perfect condition like new
Serial and ref. numbers are perfect between the lugs
Dial:
Original Rolex Dial
Perfect condition, like new
Bracelet:
original Rolex Oyster bracelet ref. 78360/580
Perfect Condition, like new
Caseback:
original Rolex caseback with original Sticker
Accessories:
Rolex box
price: 16.800€
The Rolex EXPLORER ref. 1016 was produced from 1963 to 1990.
Compared to other Rolex sports watches such as Daytona, Submariner and GMT, it has always been underestimated, undervalued and I could add "below updated".
In fact it went substantially from 1963 to 1990 without undergoing major changes.
Its evolution has concerned the dial, which has passed from Gilt to Matt, the movement that has evolved from 1560 to 1570 with the stop machine, the resistance to water that has reached 100 meters and the change of the bracelet.
In practice it is the sport Rolex with the most long-lived Matt dial, the last one with the "flavor" of the 4-digit vintage watches (1016).
In fact, the 1016 is just the last Rolex watch with a Matt dial that came to the 90s. All the other models had already been used for several years to more modern types of dials.
We could call it a … dinosaur that survived the modern era!
The explorer I ref. 1016 was intended for professional and extreme use, in fact, on request, Rolex provided a special lubrication to facilitate its operation at very low temperatures.
The Explorer 1 is a summary of perfect simplicity and has rightly regained its place among the most iconic models of the Rolex production.
This watch was produced in 1987 and after 33 years it is always in new condition, a true example of Time Capsule.
____________________________
Rolex Explorer ref. 1016 ser. R
Seriale numero R4108** , 1987
Cassa:
in perfette condizioni, come nuova
Seriale e referenza sono perfettamente visibili tra le anse
Quadrante:
quadrante originale Rolex
In condizioni di nuovo
Bracciale:
bracciale originale Rolex Oyster ref. 78360/580
In condizioni di nuovo
Accessori:
scatola Rolex
Prezzo : 16.800 €
Il Rolex EXPLORER ref. 1016 è stato prodotto dal 1963 al 1990.
Rispetto agli altri orologi sportivi Rolex come Daytona, Submariner e GMT, è sempre stato sottostimato, sottovalutato e potrei aggiungere "sotto aggiornato".
Infatti è passato sostanzialmente dal 1963 al 1990 senza subire grandi modifiche.
La sua evoluzione ha riguardato il quadrante, che è passato dal Gilt al Matt, il movimento che si è evoluto dal 1560 al 1570 con fermo macchina, la resistenza all'acqua che ha raggiunto i 100 mt ed il cambio del bracciale.
In pratica è lo sportivo Rolex con quadrante Matt più longevo in assoluto, l'ultimo con il "sapore" degli orologi vintage a 4 cifre (1016).
Infatti il 1016 è proprio l'ultimo orologio Rolex con quadrante Matt giunto agli anni '90.
Tutti gli altri modelli erano già passati da diversi anni a tipologie di quadranti più moderni.
Potremmo definirlo un… dinosauro sopravvissuto all'epoca moderna!
L'Explorer I ref. 1016 era destinato ad un uso professionale ed estremo, infatti su richiesta, Rolex forniva una lubrificazione speciale per facilitarne il funzionamento a bassissime temperature.
L'Explorer 1 è un riassunto di perfetta semplicità e giustamente ha riguadagnato il suo posto tra i modelli più iconici della produzione Rolex. Questo esemplare è stato prodotto nel 1987 e dopo 33 anni è sempre in condizioni pari al nuovo, un vero esempio di Time Capsule.
Model: Rolex Explorer
Year: 1987
Ref. Number: 1016
Serial Number R4108
Conditions: Mint
Watch Status: Available - Disponibile
Price: 16.800 €
mail: info@stefanomazzariol.it
Stefano Mazzariol: +39 335 6681944
Office Mobile: +39 333 4427214
Office: +39 0586 895028