Rolex Gmt Master ref. 16710 NOS Full Set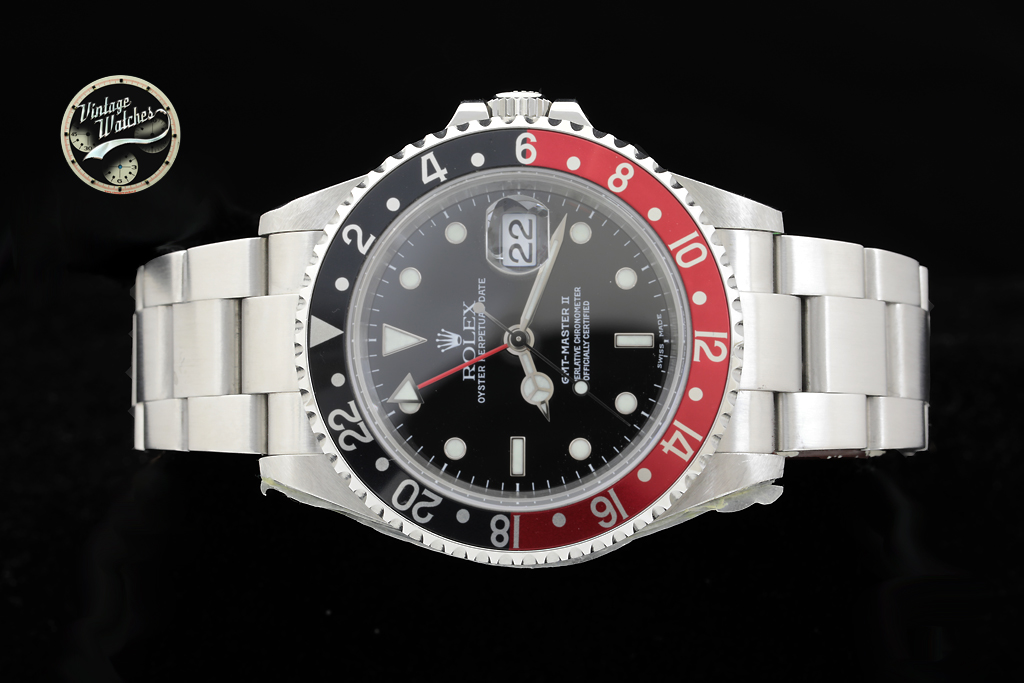 Rolex Gmt Master II ref. 16710 NOS Full Set
Serial numbers Y4165** , 2003
Case:
in mint condition (NOS)
Reference and serial numbers numbers are perfect between the lugs
Dial:
Original Rolex Dial
Mint condition (NOS)
Bracelet:
original Rolex Oyster SEL ref. 78790
Mint condition (NOS)
Bezel:
additional original Rolex Black bezel
Accessories:
Full Set (box, Rolex punched papers, booklet,s tag, Rolex wallet)
€ 12.000
For a certain period of time, the GMT Master and the GMT Master II were both part of the same Rolex catalog.
In 1999 the GMT Master came out of production with the reference 16700, leaving in the catalog only the GMT Master II ref. 16710.
The ref. 16710 produced from 1989 remained in the catalog until 2007.
The watch we offer for sale was produced in 2003, has the SEL bracelet (solid end link) and is in new condition.
Evolution of the GMT Master II
1997/2000: Tritium ? Luminova ? Superluminova
2000: introduced the SEL bracelet
2003: introduced the laser crown on the glass
2003: introduced the box without holes
2007: new Rolex plastic card warranty (Z series) introduced
End of 2007: caliber 3186 instead of 3185 (serial end Z and serial M)
______________________________________
Rolex Gmt Master II ref. 16710 NOS Full Set
Seriale numero Y4165** , 2003
Cassa:
nuova NOS, mai indossata
Referenza e seriale sono perfettamente visibile tra le anse
Quadrante:
quadrante originale Rolex
Nuovo (NOS), mai indossato
Ghiera:
ghiera nera aggiuntiva originale Rolex
Bracciale:
bracciale originale Rolex Oyster SEL ref. 78790
Nuovo (NOS), mai indossato
Accessori:
Full set: (scatola Rolex, garanzia Rolex traforata, libretti, tag, portadocumenti Rolex).
€ 12.000
Per un certo periodo di tempo, il Gmt Master e il Gmt Master II facevano parte entrambi dello stesso catalogo Rolex.
Nel 1999 il Gmt Master uscì di produzione con la referenza 16700, lasciando in catalogo soltanto il GMT Master II ref. 16710.
La ref. 16710 prodotta a partire dal 1989 rimase in catalogo fino al 2007.
L'orologio che proponiamo in vendita è stato prodotto nel 2003, ha il bracciale SEL (solid end link) ed è in condizioni di nuovo.
Evoluzione del GMT Master II
1997/2000 : Trizio ? Luminova ? Superluminova
2000 : introdotto il bracciale SEL
2003: introdotta la corona laser sul vetro
2003: introdotta la cassa senza buchi
2007: introdotta la nuova garanzia card Rolex in plastica (serie Z)
Fine 2007: calibro 3186 invece di 3185 (fine seriale Z e seriale M)
Model: Rolex Gmt Master
Year: 2003
Ref. Number: 16710
Serial Number Y4165**
Conditions: Mint
Watch Status: Available - Disponibile
Price: 12.000 €
mail: info@stefanomazzariol.it
Stefano Mazzariol: +39 335 6681944
Office Mobile: +39 333 4427214
Office: +39 0586 895028