Rolex Submariner ref. 16610 COMEX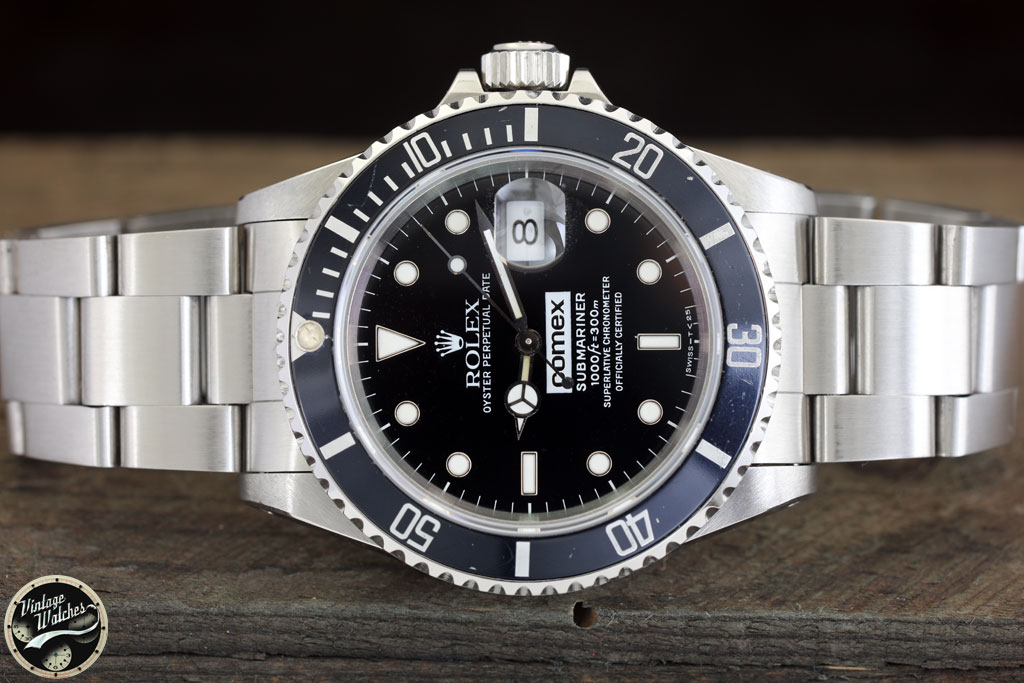 Rolex SUBMARINER ref. 16610 COMEX
Serial number E8125**, 1991
Case:
in perfect condition
Serial and ref. numbers are perfect between the lugs
Caseback:
16610 E8125**
outside 63**
Dial:
Original  Comex  dial, mint condition
Bracelet:
Original Oyster ref. 93150/501B
Accessories:
Rolex Box
Price: € 40.000
The Scuba divers of the Compagnie Maritime d'Expertises (COMEX) wear Rolex watches during the dives, the result of the collaboration between the company and the crowned Maison.
Directed by Henri-Germain Delauze, the company COMEX has played a pioneering role in a deep diving and it is still internationally recognized as a specialist in hyperbaric engineering and underwater activities. COMEX needed watches that could dive to extreme depth, manage pressurized chambers, and survive subsequent decompression periods.
The historic collaboration between Rolex and COMEX is now stronger than ever, as evidenced by the hyperbaric camera developed by the Marseilles company to test the Rolex dive watches.
These watches were distributed exclusively to COMEX employees, and therefore never marketed for the general public.
These watches has been produced as tools for professional purposes.
This is demonstrated by the fact that the Rolex watches worn by COMEX divers were an integral part of their equipment.
IIt is important to note that the COMEX divers didn't have the computers and technology we have today available, so they depended on the functionality and reliability of their dive watches to calculate the dive/decompression times, etc.
Because these watches were made to order, the Rolex COMEX were produced in very small quantities.
As you can imagine, their non-availability for sale to the public, associated with low production numbers, makes these pieces among the most desire vintage Rolex on the market.
Discovery the story and the characteristics of this model on https://www.mazzariolstefanolibrary.com/it/search-3/?1807%20barkq=1600%20gilt&postTypes=post&q=comex
________________________________________________________________________________
Rolex SUBMARINER ref. 16610 COMEX
Seriale numero E8125**, 1991
Cassa:
in condizioni perfette
seriale e referenza sono perfettamente visibili tra le anse
Fondello:
16610 E8125**
esterno 63**
Quadrante:
quadrante originale Comex, condizioni perfette
Bracciale:
Oyster  originale ref. 93150/501B
Accessori:
Scatola Rolex
Prezzo : € 40.000
I Sub della Compagnie Maritime d'Expertises (COMEX) indossano orologi Rolex durante le lore immersioni, frutto della collaborazione nata tra la compagnia e la Maison coronata.
Diretta da Henri?Germain Delauze, la compagnia COMEX ha svolto un ruolo pionieristico nelle immersioni a grandi profondità ed è ancor oggi riconosciuta internazionalmente come specialista dell'ingegneria iperbarica e delle attività sottomarine. COMEX aveva bisogno di orologi che potessero immergersi a profondità estreme, gestire camere pressurizzate e sopravvivere ai successivi periodi di decompressione.
La storica intesa tra Rolex e COMEX è oggi più forte che mai, come dimostra la camera iperbarica sviluppata appositamente dalla società marsigliese per testare gli orologi subacquei Rolex.
Questi orologi sono stati distribuiti esclusivamente ai dipendenti COMEX, e quindi mai commercializzati per il grande pubblico.
Sono stati costruiti come strumenti di riferimento per scopi professionali. Lo dimostra il fatto che gli orologi Rolex indossati dai subacquei COMEX erano parte integrante del loro equipaggiamento.
È importante sottolineare che i sub della COMEX non avevano a disposizione i computer e la tecnologia che abbiamo oggi, quindi dipendevano dalla funzionalità e dall'affidabilità dei loro orologi subacquei per calcolare i tempi di immersione /decompressione ecc.
Poiché questi orologi sono stati fatti su ordinazione, i Rolex COMEX sono stati prodotti in piccolissime quantità.
Come potete immaginare, la loro non disponibilità per la vendita al pubblico, associata a bassi numeri di produzione, rende questi pezzi tra i Rolex vintage più ambiti sul mercato .
Scopri la storia e le caratteristiche di questo modello su https://www.mazzariolstefanolibrary.com/it/search-3/?1807%20barkq=1600%20gilt&postTypes=post&q=comex
ore_av_icon_box ">
Model: Rolex Submariner
Year: 1991
Ref. Number: 16610
Serial Number E8125**
Conditions: Hardly Worn
Watch Status: Available - Disponibile
Price: 40.000 €
mail: info@stefanomazzariol.it
Stefano Mazzariol: +39 335 6681944
Office Mobile: +39 333 4427214
Office: +39 0586 895028