Rolex Submariner ref. 16613 ser. R Full Set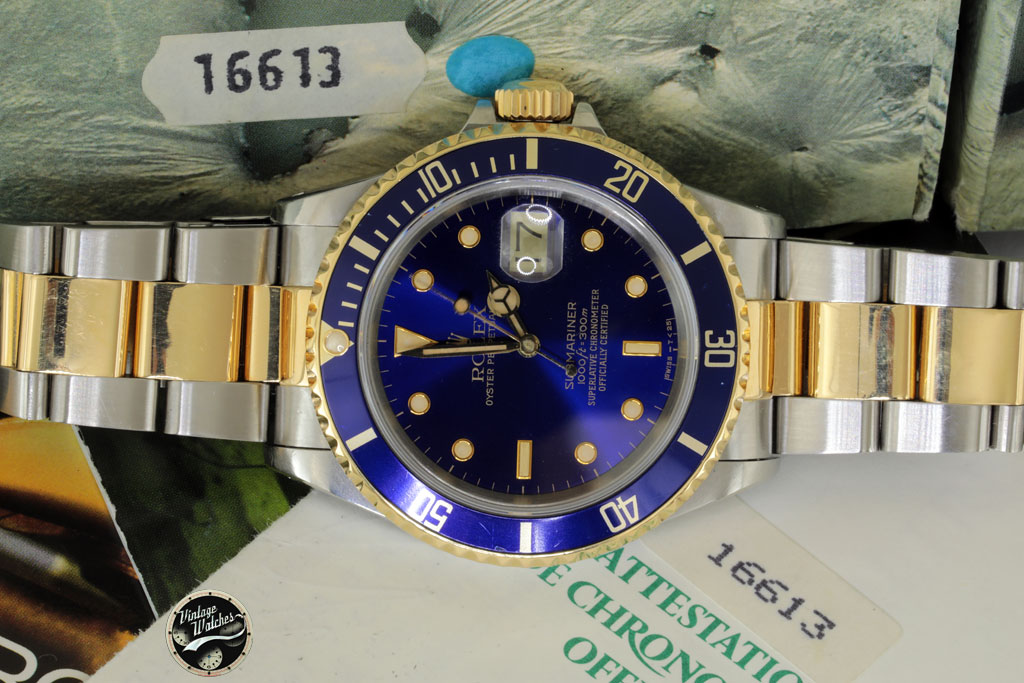 Rolex Submariner ref. 16613 ser. R Full Set
Serial numbers R9022**, 1988
One of first Sub. 16613 produced by Rolex
Case:
very good condition
Serial and ref. numbers are perfect between the lugs
Dial:
Original Rolex Dial
Perfect condition
Bracelet:
original Rolex Oyster ref. 93153/401B
Clasp M6
Very good condition
Accessories:
Full Set: Rolex Box, Rolex punched papers, booklets, Rolex wallet.
€ 8.000
Discovery the story and the characteristics of this model on mazzariolstefanolibrary.com
https://www.mazzariolstefanolibrary.com/it/search-3/?q=16613&postTypes=post
_______________________________________________
Rolex Submariner ref. 16613 ser. R Full Set
Seriale numero R9022**, 1988
Uno dei primi Sub. 16613 prodotti da Rolex
Cassa:
in ottime condizioni
Seriale e referenza sono perfettamente visibili tra le anse
Quadrante:
quadrante originale Rolex
Perfette condizioni
Bracciale:
bracciale originale Rolex Oyster ref. 93153/401B
Clasp M6
Ottime condizioni
Accessori:
Full Set: Scatola, garanzia Rolex traforata ,calendario, libretti, portadocumenti Rolex.
€ 8.000
Scopri la storia e le caratteristiche di questo orologio su mazzariolstefanolibrary.com
Model: Rolex Submriner
Year: 1988
Ref. Number: 16613
Serial Number R9022**
Conditions: Hardly Worn
Watch Status: Available - Disponibile
Price: 8.000 €
mail: info@stefanomazzariol.it
Stefano Mazzariol: +39 335 6681944
Office Mobile: +39 333 4427214
Office: +39 0586 895028