Rolex Submariner ref. 16613 Serti Dial Box & Paper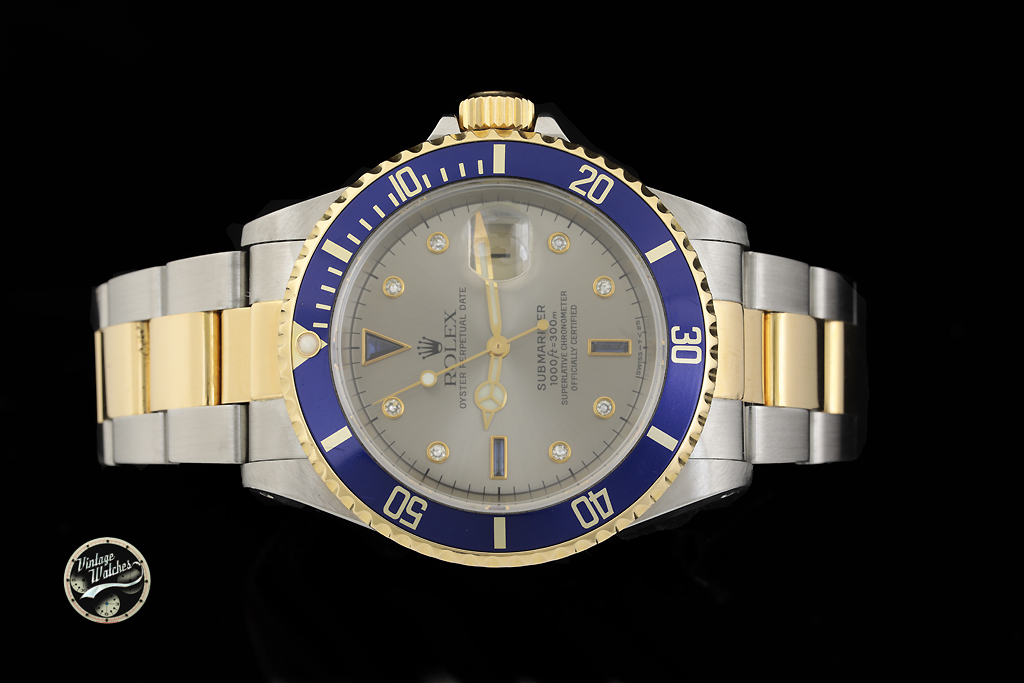 Rolex Submariner ref. 16613 Serti Dial Box & Paper
Serial numbers U8220XX,1998
Case:
in very good condition
Serial and ref. numbers are perfect between the lugs
Dial:
Original Rolex dial Serti/ Sultan
Perfect condition
Bracelet:
Original Rolex Oyster ref. 93153/401b
Clasp U6
Very good condition
Accessories:
Box abd Paper
Price 10000€
Taken from the French word "Serti" which means embedded, better to say "studded" in the context of the creation of jewelry, Rolex uses the term "Serti" to indicate any of its dials with gems, whether it be Datejust, President, Pearlmaster or others.
However, if used between collectors and Rolex enthusiasts, the Serti label is normally reserved for the Submariner and GMT-Master II dials.
The Serti dial features is characterized by eight diamond indixes combined with three sapphire indexes for the Submariner models and three ruby ??indexes for the GMT-Master II.
In the Submariner it is available in silver and champagne versions in the ref. steel and gold and in the gold model (ref. 16618) from 1981 to the whole of 2008.
The very first models mounted on this dial the very light color sapphires that showed the movement and the dater.
This watch is in excellent condition, complete with Rolex original warranty. It was sold in Las Vegas in 2000 by the Tesorini dealer, Bellagio Resort & Casino.
The code on the American warranty describes the Slate Servi dial literally.
This watch was sold by Jewelery Tesorini, a Rolex dealer in the Bellagio casino, one of the most renowned Casinos in Las Vegas
________________________________________________________________________
Rolex Submariner ref. 16613 Sultan Dial Scatola & Garanzia
Seriale numero U8220XX,1998
Cassa:
in ottime condizioni
Seriale e referenza sono visibili tra le anse
Quadrante:
Quadrante originale Rolex Sultan / Serti
Perfette condizioni
Bracciale:
originale Rolex Oyster ref. 93153/401b
Clasp I 11
Ottime condizioni
Accessori:
Garanzia e Scatola
Prezzo 10000€
Rolex Submariner ref.16613 Sultan Box & Paper
Tratto dalla parola francese "Serti" che significa incastonato, per meglio dire "tempestato" nel contesto della creazione di gioielli, Rolex usa il termine "Serti" per indicare qualsiasi suo quadrante con gemme, sia che si tratti di Datejust, President, Pearlmaster o altri.
Tuttavia, se usato tra i collezionisti e gli appassionati di Rolex, l'etichetta Serti è normalmente riservata ai quadranti del Submariner e del GMT-Master II.
Il quadrante Serti è caratterizzato da otto indici in diamanti combinati con tre indici in zaffiro per i modelli Submariner e tre indici rubino per GMT-Master II.
Nei Submariner è disponibile nelle versioni argento e champagne nelle referenze 16613 acciaio e oro e nel modello in oro (ref. 16618) dal 1981 a tutto il 2008.
I primissimi modelli montavano su questo quadrante degli zaffiri molto chiari che facevano intravedere il movimento e il disco data.
Questo orologio è in splendide condizioni, corredato di Garanzia originale. E' stato venduto a Las Vegas nel 2000 dal concessionario Tesorini , Bellagio Resort & Casino'.
Il codice presente sulla garanzia americana descrive il quadrante Slate Servi letteralmente (incastonato ardesia)
Questo orologio è stato venduto dalla Gioiellery Tesorini, Concessionario Rolex all'interno del casinò Bellagio, uno dei più rinnomati Casinò a Las Vegas
Model: Rolex Submariner
Year: 1998
Ref. Number: 16613
Serial Number U8220XX
Conditions: Hardly Worn
Watch Status: Reserved - Riservato
Price: 10000€
mail: info@stefanomazzariol.it
Stefano Mazzariol: +39 335 6681944
Office Mobile: +39 333 4427214
Office: +39 0586 895028