Zenith El Primero G382 Brown compax NOS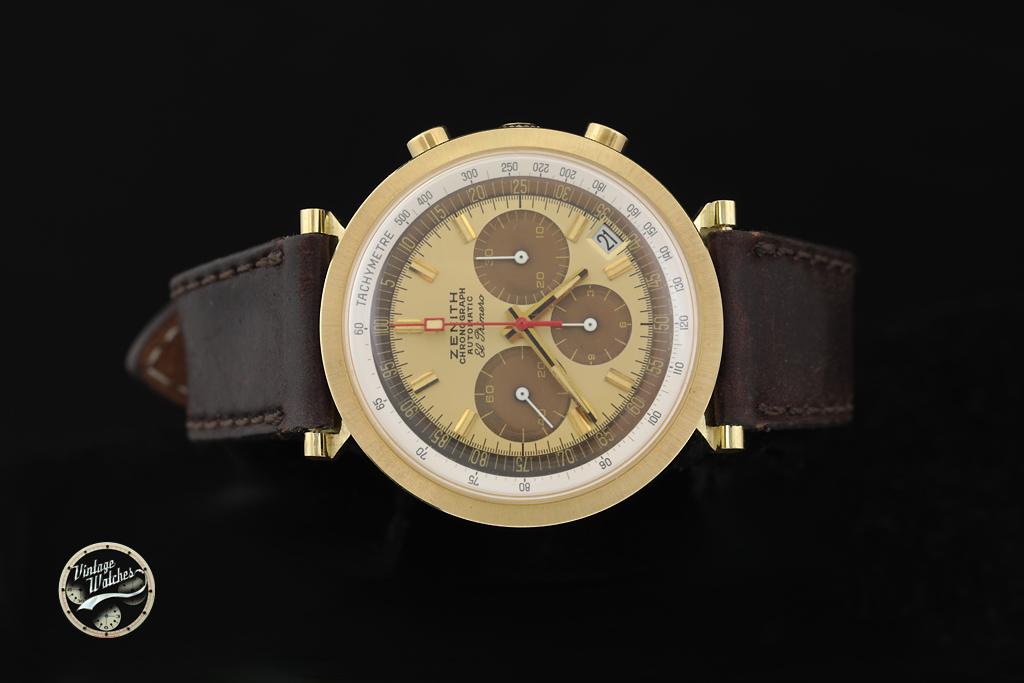 Zenith El Primero G382 Brown compax
Orologio prodotto nel 1969/70 in 250 esemplari.
Cassa: " disco volante" in oro giallo 18 kt , diametro 40 mm.
Calibro : N. 3019 PHC El Primero, il primo movimento cronografo automatico integrato, che era il calibro più preciso al mondo fatto in serie. È l'unico in grado di misurare tempi brevi al decimo di secondo più prossimo, grazie al suo equilibrio che oscilla ad una frequenza di 36.000 vibrazioni all'ora.
Questo orologio , costruito nel 1969 e' in condizioni pari al nuovo, con ancora lo sticker originale sul fondello. Il quadrante , in eccezionali condizioni ha sia i Compax che la minuteria virata al marrone, in origine era nera.
——————————————————————————————————————————————————————————————————————————-
Zenith El Primero G382 Brown Compax
Watch produced in 1969/70 in 250 pieces.
Case: "flying saucer" in 18 kt yellow gold, diameter 40 mm.
Caliber: No. 3019 PHC El Primero, the first integrated automatic chronograph movement, was the most accurate caliber in the world made in series. It is the only one able to measure the short times to the nearest second, thanks to its balance that oscillates at a frequency of 36,000 vibrations per hour.
This watch, built in 1969 and 'in like new condition, with still the original sticker on the back. The dial, in very good condition has both the Compax and the minute tracker turned to brown, it was originally black.
Model: Zenith El Primero G382 Brown compax
Year: 1969
Ref. Number: g382
Serial Number 927 D 324
Conditions: Mint
Watch Status: Available - Disponibile
Price: On request
mail: info@stefanomazzariol.it
Stefano Mazzariol: +39 335 6681944
Office Mobile: +39 333 4427214
Office: +39 0586 895028