Tudor Oyster Prince Submariner ref. 7922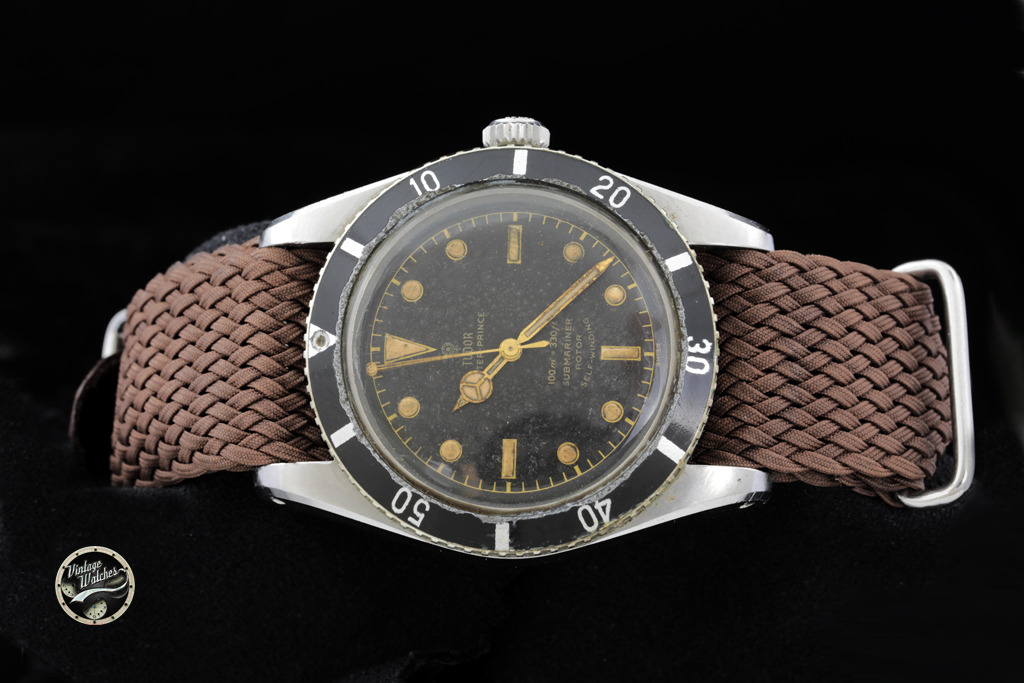 Tudor Oyster Prince Submariner ref. 7922
Seriale numero 24449, 1954
Cassa:
in ottime condizioni
Seriale e referenza sono incise sul fondello
Quadrante:
quadrante originale gilt Tudor lucido
In ottime condizioni
Bracciale:
cinturino
Accessori:
nessuno
Prezzo su richiesta
Nel 1954, TUDOR presenta il suo primo orologio subacqueo che chiama TUDOR Oyster Prince Submariner, referenza 7922.
Orologio molto simile ai Rolex Submariner dell'epoca ma di una fascia di prezzo inferiore.
Si tratta di un orologio automatico, il movimento è il calibro a carica automatica 390, basato su una ébauche Fleurier, con una frequenza di 18.000 alternanze l'ora.
I primi modelli avevano il movimento placcato color ottone. Le sue specificità rispondono puntualmente alla sua funzione di orologio subacqueo: cassa con fondello e corona a vite, la cui impermeabilità è garantita fino a 100 metri, indici e lancette di dimensioni più grandi per migliorare la leggibilità in acque profonde e lunetta girevole bidirezionale graduata con intervalli di 5 minuti per misurare con precisione il tempo di immersione e per calcolare, di conseguenza, le tappe di decompressione.
Il quadrante Gilt laccato nero lucido, leggermente bombato, con le scritte dorate leggibili su di esso: "OYSTER PRINCE" a ore 12 sotto il logo del Marchio a rosellina e, su quattro righe a ore 6, "100 m = 330 ft", "SUBMARINER", "ROTOR", "SELF-WINDING".
La caratteristica dell'impermeabilità, inoltre, è ricordata sempre a ore 6, in metri e in piedi. Il vetro in plexiglas di tipo Tropic 16 è a forma di cupola per una migliore resistenza alla pressione dell'acqua. Infine, la corona a vite di 5 mm di diametro .
Il Tudor Submariner , insieme al fratellastro Rolex, è senza dubbio uno dei modelli sportivi di maggior successo nella storia.
Era l'orologio professionale per eccelenza, al polso di militari e divers professionisti.
Questo orologio è appartenuto ad un ufficiale della marina militare, in servizio sui sottomarini Italiani.
E' in eccezionali condizioni , sopratutto cassa e movimento.
__________________________________________________
Tudor Oyster Prince Submariner ref. 7922
Serial numbers 24449, 1954
Case:
in very good condition
Serial and ref. numbers are engraved on the caseback.
Dial:
Original Tudor Gilt glossy Dial
Very good condition
Bracelet:
strap
Accessories:
none
Price on request
In 1954, TUDOR presents its first diving watch which it calls TUDOR Oyster Prince Submariner, reference 7922.
Watch very similar to the Rolex Submariner of the time but of a lower price range.
It is an automatic watch, the movement is the self-winding caliber 390, based on a Fleurier ébauche, with a frequency of 18,000 vibrations per hour.
The first models had the brass-colored plated movement. Its specific features respond punctually to its function as a diving watch: case with screw-down caseback and crown, whose water resistance is guaranteed up to 100 meters, larger indexes and hands to improve legibility in deep water and bidirectional rotating graduated bezel with 5-minute intervals to accurately measure dive time and to calculate decompression stops accordingly.
The glossy black Gilt dial, slightly rounded, with the golden writings that can be read on it: "OYSTER PRINCE" at 12 o'clock under the rose shape logo of the brand and, on four lines at 6 o'clock, "100 m = 330 ft", "SUBMARINER", "ROTOR", "SELF-WINDING".
Furthermore, the waterproof feature is always remembered at 6 o'clock, in meters and in feet. Tropic 16 plexiglas glass is dome-shaped for better resistance to water pressure. Finally, the screw crown of 5 mm in diameter.
The Tudor Submariner, together with its half-brother Rolex, is undoubtedly one of the most successful sports models in history.
It was the professional watch par excellence, on the wrist of military and professional divers.
This watch belonged to an officer in the navy, serving on Italian submarines.
It is in exceptional conditions, especially case and movement.
Model: Tudor Oyster Prince Submariner
Year: 1954
Ref. Number: 7922
Serial Number 24449
Conditions: Hardly Worn
Watch Status: Available - Disponibile
Price: Price on request
mail: info@stefanomazzariol.it
Stefano Mazzariol: +39 335 6681944
Office Mobile: +39 333 4427214
Office: +39 0586 895028