Rolex Explorer ref. 1016 Gilt Circle Ring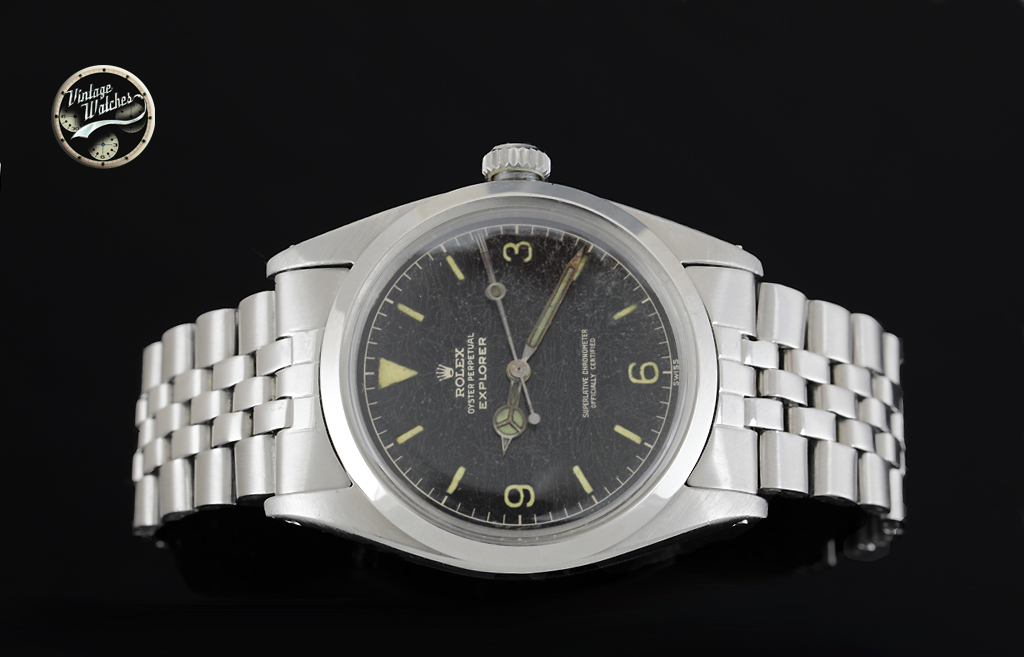 Rolex Explorer ref. 1016 Gilt Circle Ring
Serial numbers 5173xx, 1959
Case:
in very good condition
Serial and ref. numbers are perfect between the lugs
Dial:
Original Rolex Dial gilt circle ring
Perfect condition
Bracelet:
original Rolex Jubille 55
in mint condition
Accessories:
Price on request
Rolex Explorer 1016.
It is one of the more long-lived references for the Explorer. Presented in 1959, it replaces the previous reference 6610, and remained in production until 1989, giving way to the new ref. 14270 with five digits. The first specimens had the gilt circle ring dials like its predecessor 6610, but they mounted the new movement cal. 1560
This watch for sale still mounts the typical gold wheel disc of that period and the STEEL engraving on the back is still visible. A similar watch was worn by Ian Fleming in the period in which he wrote the first book of the "James Bond" saga.
——————————————————————————
Rolex Explorer ref. 1016 Gilt Circle Ring
Seriale numero 5173xx, 1959
Cassa:
in buone condizioni
Seriale e referenza sono perfettamente visibili tra le anse
Quadrante:
quadrante originale Rolex gilt minuteria chiusa
In perfette condizioni
Bracciale:
bracciale originale Rolex jubille finali 55
In perfette condizioni
Accessori:
Prezzo su richiesta.
Rolex Explorer 1016, si tratta di una tra le più longeve referenze per quanto riguarda gli Explorer . Presentato nel 1959, sostitui la precendente referenza 6610, e rimase in produzione fino al 1989 lasciando il posto alla nuova ref. A cinque cifre 14270. I primi esemplari avevano i quadranti Gilt minuteria chiusa come il suo predecessore 6610,ma montavano il nuovo movimento cal. 1560, questo esemplare monta ancora gli invertitori dorati tipici di quel periodo ed e' ancora visibile l'incisione STEEL sul fondello. Un'orologio simile era indossato da Ian Fleming nel periodo in cui scrisse il primo libro della saga "James Bond".
Model: Rolex Explorer
Year: 1959
Ref. Number: 1016
Serial Number 5173xx
Conditions: Hardly Worn
Watch Status: Available - Disponibile
Price: On request
mail: info@stefanomazzariol.it
Stefano Mazzariol: +39 335 6681944
Office Mobile: +39 333 4427214
Office: +39 0586 895028