Rolex Submariner ref.1680, Red Writing MK1, Box, Papers & Cosc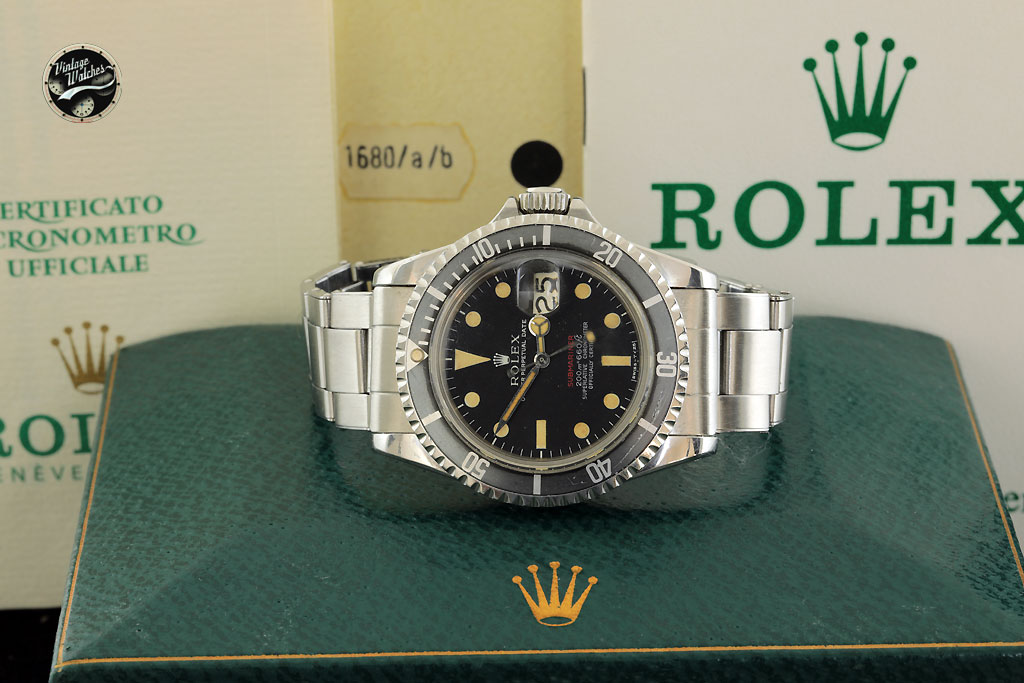 Rolex Submariner ref. 1680 ,Red Writing MK1 Box, Paper, Cosc
Serial numbers 21862xx, 1969
Case:
in very good condition, never polished
Serial and ref. numbers are perfect between the lugs
Dial:
Original Rolex Dial MK1 Long F
Red Writing, Meter first
Perfect condition
Bracelet:
Original Rolex Oyster ref. 7206/80
Perfect condition
Accessories:
Box, Punched Paper Astrua Torino ,punched cosc
Price on request
Discovery the story and the characteristics of this model on mazzariolstefanolibrary.com
https://www.mazzariolstefanolibrary.com/it/search-3/?q=1680%20red&postTypes=post
The Submariner red writing was presented in the Rolex catalog in 1969.
It was the first Rolex Submariner to be equipped with the date.
It was produced with 6 different versions of the dial, which according to my experience can be divided as follows:
Mark 0 (Meter First)  ser. 1,2 -1,9 millions from 1965 to 1968
Mark I (Meters First)  about ser. 2,07 – 2,2 millions, year 1969
Mark II / III (Meter First) producted in the same time ?about ser. 2,2 – 2,45 millions, year 1970
Mark IV ( open "6" Feet First)  about ser. 2.45 – 3 millions, year 1971/72
Mark V ( open "6" Feet First) about ser. 2 -3 millions, from year 1971 to 1973
Mark VI ( closed "6" Feet First) about 3 – 4.0 millions, from year 1973 to 1975
At the time, the American market was the most popular, and it is said that this led to the transition from the Meter First to the Feet First
If I had to organize in a table the percentages of how many Submariner 1680 were produced in the various MK, the results would be these:
Preseries Mk0 = less than 0.4%
Mk1 = less than 1.6%
Mk2 / 3 = about 6%
Mk4 / 5/6 = about 30%
White Writing= remaining 62%
This model is a Mk1 in exceptional condition, with all its original components, accompanied by the box and Astrua Torino documents.
The Submariner with brown dial are specimens with Meter First MK 2/3 dial, usually with serial from 2 to 2.3 million, born with a manufacturing defect.
It's a very rare version because not all of them turned brown and because many were replaced during official Rolex service.
________________________________________________________________________
Rolex Submariner ref. 1680 , Scritta Rossa Mk1 Box Paper COSC
Seriale numero 21862xx,1969
Cassa:
in ottime condizioni Mai lucidato
Seriale e referenza sono visibili tra le anse
Quadrante:
Quadrante originale Rolex MK1 F lunga
Scritta rossa, Meter first
Perfette condizioni
Bracciale:
originale Rolex Oyster ref. 7206/80
Perfette condizioni
Accessori:
Scatola, Garanzia Astrua Torino traforata , Cosc, Porta Documenti
Prezzo su richiesta
Scopri la storia e le caratteristiche di questo orologio su mazzariolstefanolibrary.com
https://www.mazzariolstefanolibrary.com/it/search-3/?q=1680%20red&postTypes=post
Il Submariner scritta rossa è stato presentato in catalogo nel 1969.
E' stato il primo Rolex Submariner ad essere equipaggiato del datario.
E' stato prodotto con 6 diverse versioni di quadrante, che in base alla mia esperienza possono essere così suddivise:
Mark 0 (Meter First) seriale 1,2 -1,9 milioni dal 1965 al 1968
Mark I (Meters First) seriale 2.07 – 2,2 milioni circa, anno 1969
Mark II / III (Meter First) prodotti contemporaneamente seriale 2,2 – 2,45 milioni circa, anno 1970
Mark IV ( "6" aperto Feet First) seriale 2.45 – 3 milioni circa, anno 1971/72
Mark V ( "6" aperto Feet First) seriale 2 – 3 milioni circa, anno dal 1971 al 1973
Mark VI ( "6"chiuso Feet First) 3 – 4.0 milioni circa, anno dal 1973 al 1975
All'epoca il mercato americano era quello che andava per la maggiore, e si dice che questo spinse a passare dal Meter First al Feet First.
Se dovessi organizzare in una tabella le percentuali di quanti Submariner 1680 sono stati prodotti nei vari MK, i risultati sarebbero questi:
Preserie Mk0 = meno del 0,4 %
Mk1 = meno del 1,6%
Mk2/3 = circa il 6%
Mk4/5/6 = circa il 30 %
Scritta Bianca= restante 62%.
Questo esemplare è un Mk1 in condizioni eccezionali, con tutte le sue componenti originali, corredato dalla scatola e documenti Astrua Torino.
Model: Rolex Submariner
Year: 1969
Ref. Number: 1680
Serial Number 21862XX
Conditions: Hardly Worn
Watch Status: Available - Disponibile
Price: Price on request
mail: info@stefanomazzariol.it
Stefano Mazzariol: +39 335 6681944
Office Mobile: +39 333 4427214
Office: +39 0586 895028